by Robert Boyd
After work today, I thought I'd drive around that part of the Independence Heights neighborhood
where I had found Independence Art Studios and the residences of several sculptors
. I wasn't expecting to find much I drove around all the streets south of Tidwell between Shepherd and Yale, going from North to South. I checked out Janisch Rd. and Martin St. again, just in case I had missed anything. The next street further south is Thornton Rd. I drove down it slowly and found myself staring at a field full of sculptures. The address was 404 Thornton. I will apologize in advance for not getting more photos. The sun was shining in such a way that it made it hard to see what I was shooting, and there was a fence. (That said, it is worth stopping by. The Glover's dogs will bark at you, but you can see a lot of interesting sculpture from the road.) Here are a couple of the pieces.
Tim Glover, two sculptures
These are two of a whole bunch of the sculptures in this big yard. I guess there are about 10 sculptures there, and they aren't small, either. In the distance, there was a large workshop, and I could see someone working in it. I checked out
my trusty HCAD
to find out who owned this property, and it came back with "Timothy and Mary Glover." A little Googling and I discovered that
Tim Glover is a sculptor
who used to teach at
HSPVA
. There is a Mary Glover who works for Cooperative for After-School Enrichment,
which has done some after school arts education locally
. I don't know if it is the same Mary Glover, but wouldn't be surprised.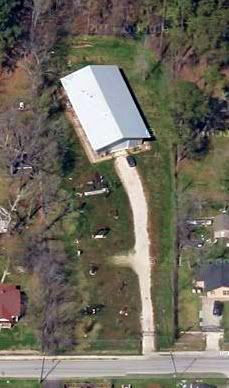 Tim Glover's house via Google
This property seems to back up to the properties owned by Brian Owens and Magdalene Boltz-Topp, so we really have a knot of sculptors, all living in the same north-south band.
Tim Glover's fence
Even Glover's fence is a work of sculptural art!