by Robert Boyd
Art at 3210 Elmridge, Houston, TX
Who is this artist?
Swamplot
noticed this house for sale on
HAR
, where the garage had been turned into a nice studio. I love it when these realtor photos show art on the walls--it's fun to form opinions about the artistic tastes of the sellers. But in this case, these minimal geometric abstractions were presumably painted by the seller. So looking at them, Houston readers, so you have any idea who the artist might be? [
HAR
,
"A Garage-Free Garden and Gallery Complex Near the Astrodome," Swamplot,
April 30, 2012]
The art garage at 3210 Elmridge
The best review I've read all month.
A review of
Avengers Versus X-Men: Versus
[sic], which is apparently a comic book that has no story whatsoever--just fight scenes between Iron Man and Magneto and the Thing and the Submariner, four Marvel superheroes/supervillains. It was reviewed by a guy named Tucker Stone. Here's my favorite part:
Neither of the fights are poorly drawn. However, nor are they drawn in such a way that'll make you jump out of your seat and screech CONFOUND IT, THIS BE THE KING'S OWN ENTERTAINMENT while spitting on that picture of Jack Kirby that everybody spits on whenever they read an Avengers comic, because fuck that dead guy and his shifty family, they keep trying to steal the pajama gang movies from the big company that makes all the best presents, and they're gonna lose anyway, because justice is for douchebags and so is trying. ["Sometimes You Just Kick Back And Watch 'Em Drown" by Tucker Stone, The Comics Journal, April 27, 2012]
Anish Kapoor, Leviathan, 2011,

P.V.C and forced air, 33.6×99.89×72.23 meters
Why is art so damn big these days? Jillian Steinhauer wrote a nice piece on the trend to super-sized art for Hyperallergic.
The problem with art as entertainment is that it privileges the "Wow" factor over everything else. Standing inside many an Olafur Eliasson installation, you're delighted, you're impressed, you take a picture of yourself looking yellow. But you don't think about it all too much. Of course there's a chance you might, when you go home, but the art itself doesn't encourage thinking. Rather, it privileges emotional response — particularly the feeling of being impressed and awed — over understanding; in other words, passive consumption versus active.
She equates these super-large pieces with entertainment, which makes sense. But they could also be associated with Kant's idea of the mathematical sublime--another type of sensation that shuts down thinking. ["The Problem With Big Art," Jillian Steinhauer, Hyperallergic, April 30, 2012]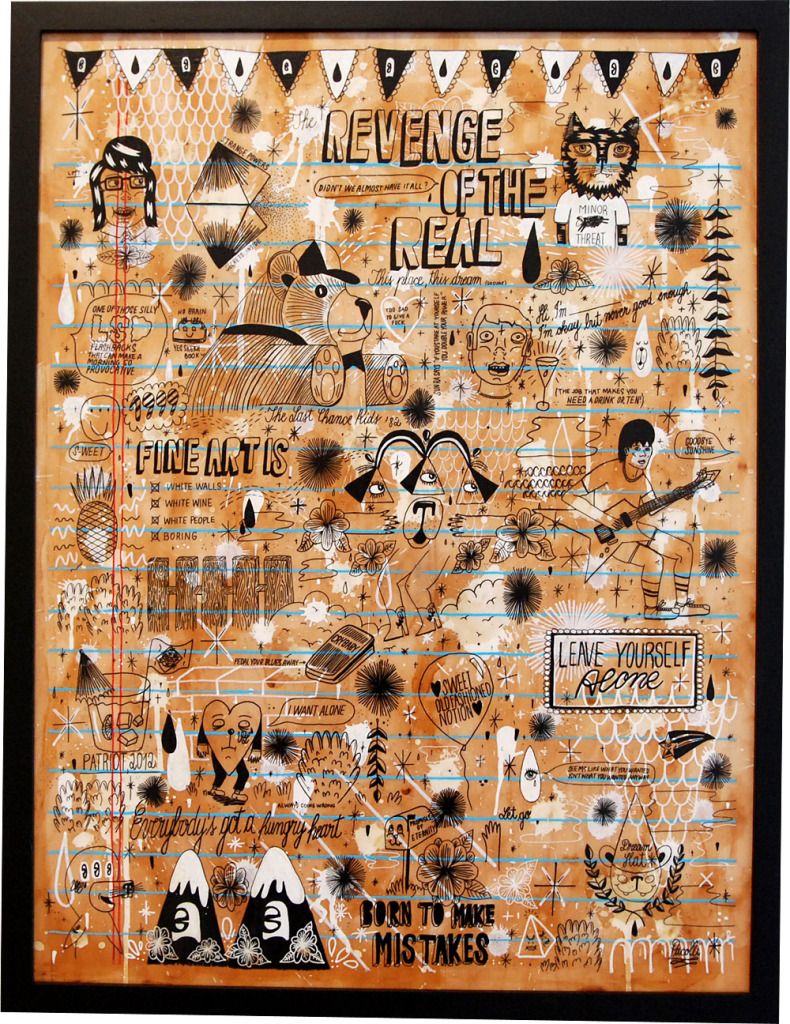 Pacolli, The Revenge of the Real, 2012
This art made me laugh uncomfortably. It's by an artist named Pacolli and is currently on view at Fecal Face Gallery [sic] in San Francisco. Here's a detail: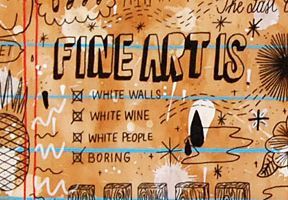 Pacolli, The Revenge of the Real detail, 2012