Well, bummer. I took a few photos of the
Comicpalooza
comics convention (which I visited yesterday) and somehow managed to lose them all. They are probably hidden somewhere on my computer.
So be it--the point of this post isn't to show Comicpalooza, but to put down some thoughts about it and comics conventions in generally. As I mentioned in
my previous post
, there are two comics worlds that overlap to a certain degree in certain places. These are the world of comics as art and the world of comics as entertainment. There's a lot I could write about these two worlds and their relationship with one another. That's a big post (or posts) and I'm not really ready to write it.
Comicpalooza was devoted to comics as entertainment. Virtually everything there was related to popular fannish genres and generally to the lowest common denominator examples of those genres. And that's OK. That is what the modern comic book convention has evolved into. Or, I should say, how the modern comic book convention has bifurcated. There are conventions like Comicpalooza and then there are art comics conventions like
SPX
and
APE
.
This year's Comicpalooza is a lot larger than
last year's, which was held in a mall
. But it felt smaller because it was dwarfed by the space it was in. It was in the
Brown Convention Center
, a structure so huge that it could have hosted a half dozen Comicpaloozas at once. As it was, the dealer's tables didn't even fill the hall they were in. That weekend, the center was hosting Comicpalooza, the
Shell Eco-Marathon
, and the
3/10 High Caliber Gun & Knife Show
.
There was an artists' alley area (with several fairly "big name" artists) that was separate from the dealer's room. Artist's alley might have been the right place for a
Kelly Deanne Robertson or Ted Closson
to set up--but they would have stuck out there next to the fantasy/superhero/adventure/goth artists there.
I seriously regret that I lost photos of the "Curious Specimens." These were jars that contained what were purported to be the skeletons of fairies or pixies. They are beautifully crafted from bird bones, insect wings, wax, and other materials. They could stand next to any number of delicate pieces of assemblage art without shame. The artist's name is
Peter D. Kinser
. I can't find any images of them online, but if you are interested, his email is peter.d.kinser@juno.com. They're definitely worth checking out.
Even though he was selling rather unusual artworks, Kinser fit right in. His appearance and the appearance of his wares was very goth, and goth was a subculture well-represented here. But "indie" was not really on display much except at the
29-95.com
booth. They were live-blogging and giving away copies of 29-95 contributor
Joe Mathlete
's comic book,
Hooray! It's the Future
. It's a funny little mini that would be right at home at SPX, but it really stuck out here. Here's one of his cartoons that made me laugh: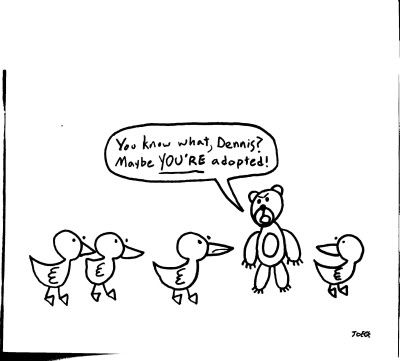 Another cartoonist whose work I liked is
Yehudi Mercado
. He's an Austin-based multi-media artist who worked one summer as a pizza delivery boy, which presumably is the genesis of his amusing comic,
Buffalo Speedway
. This comic is firmly an "indie comic." It has a vibe similar to, say,
Scott Pilgrim
(but I liked it better than
Scott Pilgrim
because I don't really understand all the gamer stuff in
Scott Pilgrim
). At the risk of sounding snobbish (which is OK, because I
am
a snob), a comic like this is sort of halfway between "mainstream comics" (your Marvels and DCs) and the kind of comics I like best, which I call art comics. But even if I am a snob, I am not a puritan who denies himself pleasure. I really enjoyed
Buffalo Speedway
and was bummed out when the story didn't wrap up in volume 1. Will I have to wait til next year's Comicpalooza for volume 2?
Don't get me wrong--Comicpalooza was just fine as a comic show. I hope it's a success. It needs to grow if it is to remain viable for the Brown Convention Center (which is a great location). It was great to see Richard Evans (Memorial High School class of '81 homey) and his
Bedrock City Comics
crew there. I was disappointed that writer
Gene Wolfe
canceled his appearance, but shows like this have hiccups. I suspect it will get better and better--the progress between last year's show and this year's show was very evident.
Still, I would like to see a show where the exhibiting artists were mostly folks like Peter Kinser, Joe Mathlete, Yehudi Mercado, Kelly Deanne Robertson,
Ted Closson
, etc. But no one is going to put on a comics event in Houston just for me, alas!