I am so behind on writing about shows I like that the shows are almost over when I get around to writing. These shows--"Math of the Aftermath" by
Boozefox
and "Being" by
Tobiah Mundt
--end on September 25, so go see them now!
These shows both should have been Halloween shows. Mundt's spooky bone-white plush figures and Boozefox's giant walk-through skull--they are like two parts of an excellent haunted house. But Lawndale traditional has its Dia de los Muertos retablo show for Halloween. So consider these two as teasers for Halloween.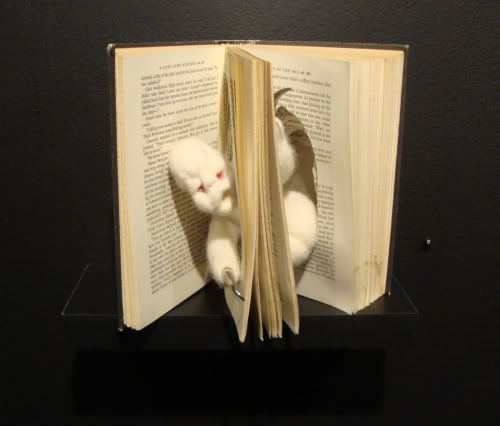 Tobiah Mundt, Roscoe, felted wool and mixed media, 2008
Roscoe
here is a book worm with some very nasty claws. He's the kind of creature that might pop out when you open a really good Stephen King book very late at night.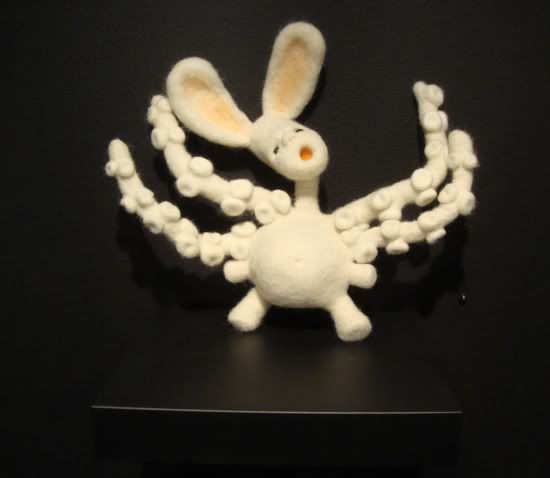 Tobiah Mundt, Octobunny, felted wool and mixed media, 2008
Cute and disturbing are not things that can be measured on a one-dimensional scale: they are orthogonal.
Octobunny
proves this by being simultaneously cute
and
disturbing.
Tobiah Mundt, (not sure about the title), felted wool and mixed media, 2008
If I were a collector who bought this piece and brought it home, set it up on a shelf or a plinth in my bedroom, fully conscious of what I was doing, I think I'd still scream when I saw it if I woke up during the night.
But maybe I'm just a big old chicken, because Mundt thanks her son Maddox "for thinking my work is funny--not scary."
Boozefox is an Austin-based collective consisting of Mike Phalen, Jules Buck Jones, Scott Eastwood and Drew Liverman. The best way to experience
Math of the Aftermath
is to walk through it, so I did.