by Robert Boyd
If you haven't been living in a monastery for the past few weeks, you've probably heard of the latest iteration of social networking,
Pinterest
. Pinterest is a website that allows you to toss up images from other websites into little collections called "boards" (i.e., bulletin boards). I think the idea of these boards is semi-aspirational. Like a board called "Fashion" might be used as a way for the board owner to keep visual notes on fashion she would like to have for herself. I use "she" deliberately because
Pinterest appeals primarily to women users
. Common users' boards are fashion, makeup, hair-styles, and home decor. And fundamentally, it seems strongly oriented towards consumer products and consumerism in general. (
Read more about Pinterest here.
)
But it strikes me as a particularly useful social media site for fans of art as well as art professionals. What it does really well is to make it easy to post an image that you like. And any plugged-in art lover is always coming across images that she likes. Here's how
my Pinterest space
looks.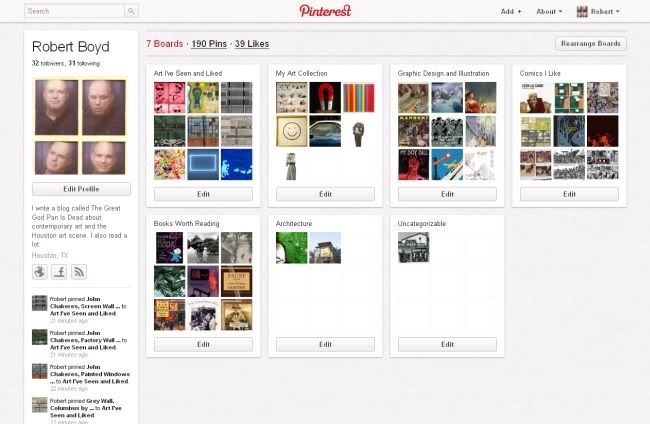 I have seven boards (at present). "Art I've Seen and Liked" the one I pin to most. If I see something I like on
Hyperallergic
, for example, I'll "pin" it to that board. And if someone looks at the image and likes it, they can click through back to the original
Hyperallergic
post. (I mention this because in one way, Pinterest allows you to
swipe
images, but I think it ultimately benefits the site you swiped from if viewers click back to the origin.) It goes without saying that I also post images from posts on
The Great God Pan Is Dead
. So far, the traffic back to this site from Pinterest is modest, but every day I get new "followers" on Pinterest, so I expect that to grow. (Below is the
"Art I've Seen and Liked" board
.)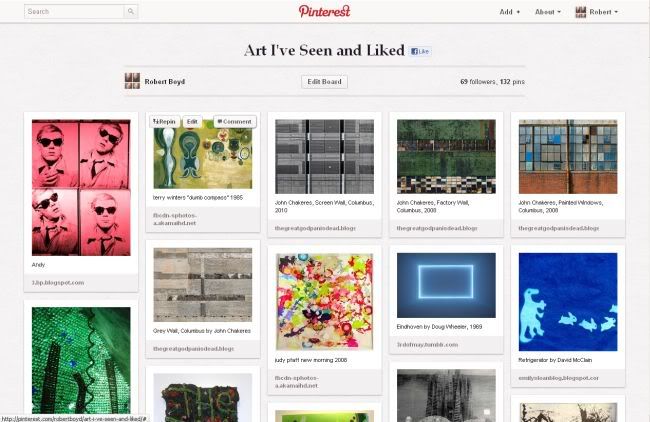 This seems like the obvious benefit--any artist who blogs or has a
Tumblr
or
Flickr
account can spread her own images of her art via Pinterest. Likewise galleries and museums which host images on their own website. Pinning them onto their own Pinterest pages pushes them out into the world where they can be followed back to the source. The ease of use of Pinterest (by far the easiest of all social media that I have tried) combined with the emphasis on images make it, I think, an potentially powerful tool for people in the art world.