by Robert Boyd
A few weeks ago, I saw
Ariane Roesch
's pop-up gallery,
UNIT
, at
Kinzelman Art Consulting
. I was curious about UNIT, which is basically an online store for limited edition prints in various media. So I asked Roesch if I could ask a bunch of nosy questions about her online enterprise, and she graciously consented.
I'm particularly interested in art sellers like UNIT because they offer an alternative to galleries. Not that there is anything inherently wrong with galleries (galleries of the world--you know I love ya!), but for many would-be art buyers, galleries have a series of problematic features. They tend to be pretty pricey--which leaves less wealthy art lovers out. They tend to be somewhat confusing, opaque sales environments for newbies. What a site like UNIT does is offer--for
some
buyers--a more comfortable buying experience.
I sent Roesch a series of questions about UNIT, which she has answered below. The artwork used to illustrate this post is all available from UNIT.
Lewis Mauk, Orange Colgate, Serigraph (silkscreen), edition of 10, size 11"x40" inches
What is UNIT? When did it begin?
UNIT is an online resource and store for limited edition prints, products, and prints by emerging and established artists. Each item is unit of a whole, at least an edition of 10 but no more than 100, available as a whole UNIT. This means that one can either purchase a print as is or already matted, framed and ready to hang on your wall – UNIT even provides the hanging hardware complimentary. UNIT represents and only frames with HALBE. They are easy to use, front-loading magnetic picture frames that are manufactured in Germany. Each HALBE Frame comes already pre-assembled - as a UNIT - with glass, backing, and a storage box and does not require any additional tools to frame. It's a simple, clean, and fully archival design that makes it easy to reuse or install at a permanent location. UNIT was created the 1st day of Christmas 2011, 12/1/2011, and officially was launched Valentine's Day 2012 featuring a special edition – 'Love Your UNIT' – a framed linocut print available for $50.
Did you found UNIT? If so, why?
I have a personal weakness for printed material and limited edition pieces. As an artist, I like to construct hand-made pieces – objects, books, cds – as a small edition. I love prints, flyers, street art, quirky artist books, multiples, etc… the whole printmaking ritual is really fascinating to me as well as the idea of making multiples – it's a very interesting and affordable way to promote and self-publish. Although we have a large print community in Houston -
Burning Bones Press
and the
PrintMatters Group
to name a few – there isn't a commercial art space in Houston specifically dedicated to limited editions. UNIT is a way to showcase work from local, national, and international artists. Is UNIT meant to be strictly an online art dealer? Although mainly based online, works available on the UNIT website can be viewed at its physical flat file location or during a pop-up exhibition. So far, UNIT has organized two small shows, 'Picture Your UNIT' at the
Gallery Sonja Roesch
for
FotoFest
and 'Prop Up Your UNIT' at Kinzelman Art Consulting. I am currently organizing a large Exhibition, titled 'Horror Vacui', to be shown during the summer for PrintHouston in the Gallery Sonja Roesch space. The opening is scheduled for July 14.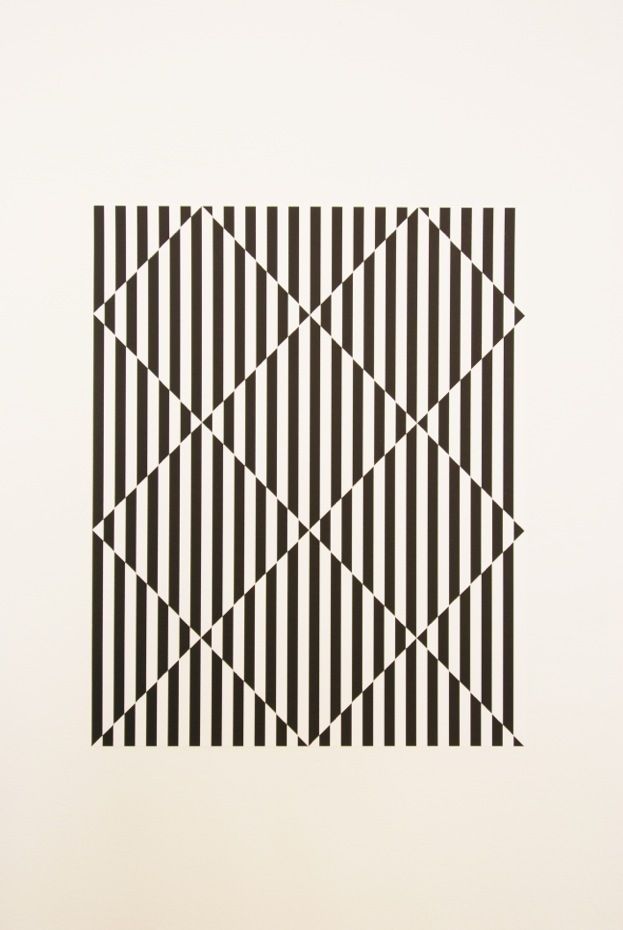 Jan van der Ploeg, Big Calm, 2010, screenprint, edition of 25, 50 x 40 cm (19.7" x 15.7" inches)
How frequently does UNIT release new editions/artworks/publications?
Since it is a rolling submission process, new editions can be added as they are accepted. Though the real push for getting new work will be a coming up exhibition, such as the one this summer. Our monthly newsletter will always feature an edition as well as mention any new additions.
How would you compare UNIT to other online art dealer/publishers (for example 20x200)?
There are tons of websites that sell affordable artwork or limited editions from established artists, but UNIT, as the name suggests is really about providing a full package so to say… not just selling affordable art but also providing the framing, hanging hardware, tools and advice on how to install work, take care of it, keep track of it and essentially starting an art collection. Its kind of a fusion between ventures like
20x200
and sites like
Fuse-Works
or
Grey Area
with an IKEA sensibility: real art by real artists made easy to acquire, install, and take care of. Even though it is not an "original", it is still a unique piece since each piece is hand-made/hand-assembled by the artist – this is why UNIT does not feature anything completely digital.
Does UNIT specialize in local/regional art? Or is it art from all over?
The work is from all over. Currently UNIT features artists based in Houston, Los Angeles, Boulder, and France. How do you choose the artists UNIT is selling work by? The work has to fit the basic criteria: An edition of at least 10 but no more than 100, hand-made or hand-constructed by the artist or a press, nothing digital and if digital, there should be a non-digital component to it. Although I don't want to assume an absolute curatorial role, I essentially make the decision. I'm striving to keep an open policy through a process or referrals, suggestions, and an always open and rolling submission process. What I do look for are Artists that work in a variety of media, and see the idea of a multiple as a field of artistic discourse and inquiry itself, rather than a way to mass-produce their work.
Gissette Padilla, Malicious Compliance (part I of III), edition of 5, Positive Lithography, 22" x 30" inches
How does UNIT promote/advertise itself?
That's going to be an ongoing and evolving process as UNIT grows. Currently we have a monthly newsletter,
Facebook
, Google, a listed shopping cart, press, and events through pop-up exhibitions. We are in the process of being listed on printed-editions.com a website that lists galleries dealing with limited editions, mainly prints by established artists, and we will be looking into more web based advertising as the year progresses.
Does UNIT print the works? If not, who does? (I know the work is in various media, so I assume there are multiple printers.)
UNIT doesn't print any of the work - all items are made by the artist or a printing press. UNIT can produce in terms of connecting people. I work closely with the artist or organization to develop an idea for an edition based on their work and then find the best and most efficient and economical way to produce it. For example, I'm currently working with
Glasstire
to develop a set of editions that will be launched and for sale through UNIT starting this summer. The proceeds from these editions will benefit
Glasstire
.
Harry Gamboa Jr., Alarmist Gets Her Curl, 2005, from the series Siren's Post-Acid Complex, Edition of 40, 16" x 24" inches
You are an artist and some of your own art is available through UNIT. Do you foresee difficulty being both an artist and an entrepreneur? Both in terms of time commitment and in terms of the basic difference between the two roles--or have these roles converged (i.e., Murakami or Jeff Koons)?
I define an entrepreneur as someone who is self-employed and with that definition I think all artists essentially are entrepreneurs. Even if you are not pursuing the commercial gallery aspect, you are still self-promoting and pursuing either artist residencies, grants, etc. I consider UNIT a part of my practice. Beyond simply running a space it is the monthly newsletter, the text, the special editions, the tag lines, the ads, etc that I enjoy conceptually playing with and seeing the response. UNIT sells artwork, but the whole project is an artwork as a commercial endeavor. Having an artist space, though it is time consuming, is a wonderful way to connect with and promote other artists that are interested in a similar dialog. It's more like creating a community. My own work is listed but it's complemented and enriched by a wide range of other works by other artists. Time becomes the true test. Can you sustain making art and running a space and also continue doing all the "fun" stuff that goes along for both? With UNIT being based online, and occasional pop-up exhibitions as the opportunity presents itself, I'm limiting some of the common stresses of running a space. The goal is to have one large exhibition once a year in the summer to present the current listed work. The rest of the year the newsletter will be the monthly "exhibition" with featured items, special interviews, and other UNIT information.