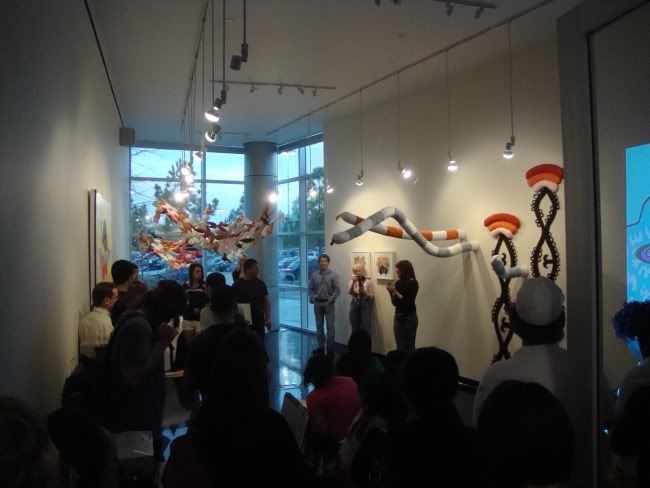 The Bosque Gallery at Lone Star College-Cyfair
If you are an art lover who likes to stroll through the galleries and museums and art spaces in Houston, you inevitably find yourself in certain neighborhoods. The Museum District, Montrose, that area near Richmond and Kirby, just north of Downtown, the Heights, the Third Ward, and increasingly on the East End. But unless you visit the
Pearl Fincher Museum
in Spring, you almost never find yourself outside the Loop looking at art, much less outside the Beltway. It's as if most of Houston and Harris County were a vast
art-free zone
.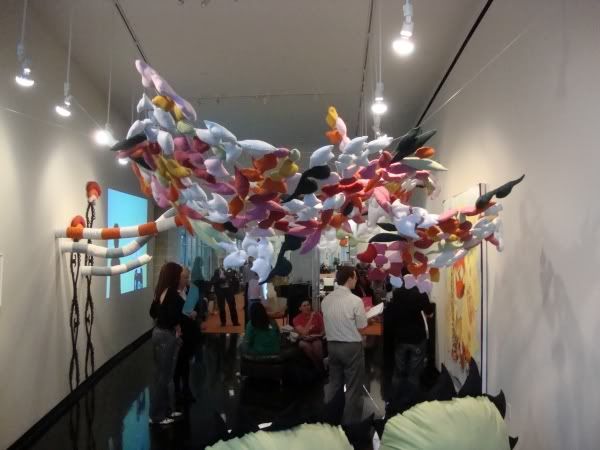 Wendy Wagner, Lookie installation view, mixed media, 2011
But that's not really true. Last night after work, I visited a distant art outpost,
The Bosque Gallery
at
Lone Star College CyFair
. The show was called "Lookie" and it was by
Wendy Wagner
, the
2008 Hunting Prize winner
. The show was a combination of sculptural installation, paintings, and animation. The animation was especially great--this seems to be Wagner's biggest strength. She was in the gallery talking to students, many of whom appeared to have an assignment that involved writing about the exhibit, which I found touching. The opening was from 4 pm to 6:30 pm--I barely made it before it closed. And these hours were special hours. The gallery is usually open on these days and times:
Monday Closed
Tuesday-Thursday 11 a.m.-2 p.m.
Friday-Sunday Closed
That's typical for the community college galleries. Have you ever been to one? I've been to two--the Bosque Gallery and the art gallery at LSC-Kingwood. In both cases it was because they were open late for an opening, and even then I was only able to see shows there because I work on that side of town.
View
Community College Galleries Outside the Loop
in a larger map
As far as I can tell, the map above shows all the community colleges outside the 610 Loop that have art galleries. I may have overlooked some--if you know of any that I am missing, please mention it in the comments. Now some might think that community college art galleries are going to show uninteresting art or second rate art. After all, these are basically vocational schools. They don't have the broad educational mandate that a university nominally has. But the thing is, I'm always hearing about really excellent shows at these places--shows by exceptional local artists. Why is this?
Wendy Wagner, Lookie installation view (Wagner is the person on the left), mixed media, 2011
The reason is simple, I think. Lots of Houston's best artists teach at these places, either as full-time staff or as adjunct teachers. They have the wherewithal to put on excellent shows in these galleries. But the problem for me, as an art lover, is that I can never see them. Because as with the Bosque Gallery, the hours for these places are basically designed to ensure that people with day jobs never enter the gallery.
College of the Mainland Art Gallery
Mon. to Thurs. 10 am to 5 pm
Art Gallery at LSC-Kingwood
Mon. to Fri. 10:30 am to 5 pm (the main site gives different hours, but these are the hours on their Facebook page)
San Jacinto College South Art Gallery
Mon. to Thurs. 8 am to 5 pm
Fri. 8 am to noon
Galeria del Norte--San Jacinto College
can't find their hours online
HCC Northeast Art Gallery
Mon. to Thurs. 9 am to 3 pm
HCC Northwest Art Gallery
M 8:30 a.m.–11:30 p.m.
T 10:30 a.m.–3:30 p.m.
W 8:30 a.m.–11:30 p.m.
Th 10:30 a.m.–3:30 p.m.
F 9:00 a.m.–1:00 p.m.
Alvin Community College Art Gallery
no times and days given
Wendy Wagner, Lookie installation view, mixed media, 2011
It's frustrating that there are so many art galleries that have what seem to be interesting exhibits that I just can't see. But you might be saying to yourself, jeez, what a whiner. Just because he can't some art shows he acts as if a great injustice is being perpetrated.
That aspect of my complaint--that it seems self-centered--is one reason I haven't written about this before, even though it has bugged me for years. But I think there is a bigger issue here. If you live inside the Loop, seeing art is pretty easy. The further outside the Loop you go, the harder it is. Now I think art is facing a crisis. People in the U.S. are alienated from art. Art funding in schools is being slashed. There are lots of people who find the art world and contemporary art to be elitist, appealing on one hand to wealthy socialites and on the other hand to academics who read lots of philosophy and critical theory. Ordinary Americans (whatever that means) can't relate.
But to my mind, a part of the problem is the geographical isolation of art. If you live in Pearland or the Woodlands, seeing an art exhibit is a major expedition--a forty mile drive! Why do that when the water park or the golf course are right down the road?
Wendy Wagner, Lookie installation view, mixed media, 2011
But as I've shown, the reality is that there are art galleries all over the Houston metro area. And these galleries feature really interesting exhibits like "Lookie". To me, it's tragic that the average resident of Cypress-Fairbanks can't swing by on Saturday afternoon and see this exhibit. More important than any personal inconvenience is the inconvenience suffered by a population that might not otherwise have any easy access to art at all. If we think it is important for the people of the Woodlands and Pearland and Pasadena and CyFair to have access to art, then the galleries at the community colleges should stay open longer hours and on the weekend.
Wendy Wagner, Lookie sculpture, ceramic , 2011
I realize it's easy for me to blithely suggest that they stay open later. The community colleges in Texas are underfunded and about to lose even more funding. This is unlikely to change in the future, as the people in Texas repeatedly vote for the cheapest government possible. So what can be done?
I don't have a magic bullet. But I think it would be good for the gallery directors and art departments of those schools to start thinking like non-profit art spaces. The ones here in Houston work hard to get grants and come up with creative ways to raise funds. For example, they sell memberships. Even though seeing an exhibit at Diverse Works, for example, is free, they go through a lot of trouble to sell memberships at varying levels of sponsorship. I'd like to see some of the same from LCS and HCC and San Jacinto. And if it leads to being able to be open more hours, it could be a virtuous cycle--the more people who visit the gallery, the more people who will give money to the gallery. And surely the colleges wouldn't mind a slightly higher profile in the community.
Tweet