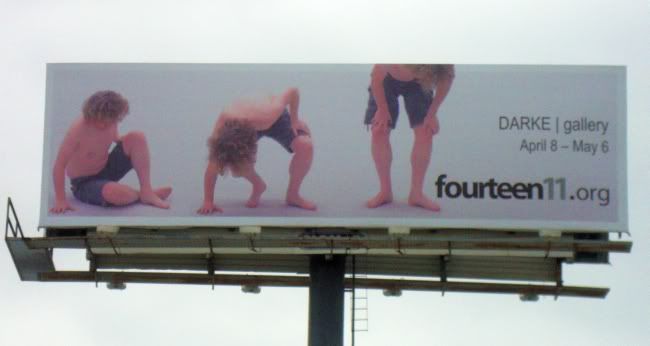 I was driving to work last Wednesday and my eyes nearly popped out of my head when I saw this billboard on the North Loop between Main and Airline. I've never seen an art gallery advertise on a billboard. Galleries, when they do advertise, usually spend their ad dollars with art magazines and increasingly on art websites. So what's the story here?
Fourteen11
is a group of UH photography students (initially fourteen of them) who are graduating in 2011. Some readers may recall that I met them last year and
bought a print
by
one of them,
Mauricio Lazo
. I asked Linda Darke about the billboard and she told me this:
The seniors in the photography, digital art, video dept. asked if they could have their senior show at the gallery. I told them if they could organize themselves and find someone good to curate the show, I'd consider it. They formed a 501c3 non profit, did some fund-raising, got Kristy Peet,who teaches at HCC and the Houston Center for Photography, to curate the show. One of the 14 artist's father-in-law owns the billboard company

*

and gave them a billboard that wasn't rented.
I mentioned that there were initially fourteen. One of their number,
Patrick Hunter Cash
, died of muscular dystrophy. The rest of the members of Fourteen11 decided to honor Cash by putting one of his photos on the billboard.
The exhibit will be opening at the
Darke Gallery
on April 8. Make a point of seeing it--these students are all top-notch photographers, and some of them have very exciting ideas.
*Correction
: Ajaz Akhtar, one of the members of Fourteen11, writes in with a correction. It is his wife that works for the billboard company, and she convinced her boss to do something to help out their group. (And since Fourteen11 formed a 501(c)(3), the in kind donation of billboard space is probably tax deductible.)
Tweet