by Robert Boyd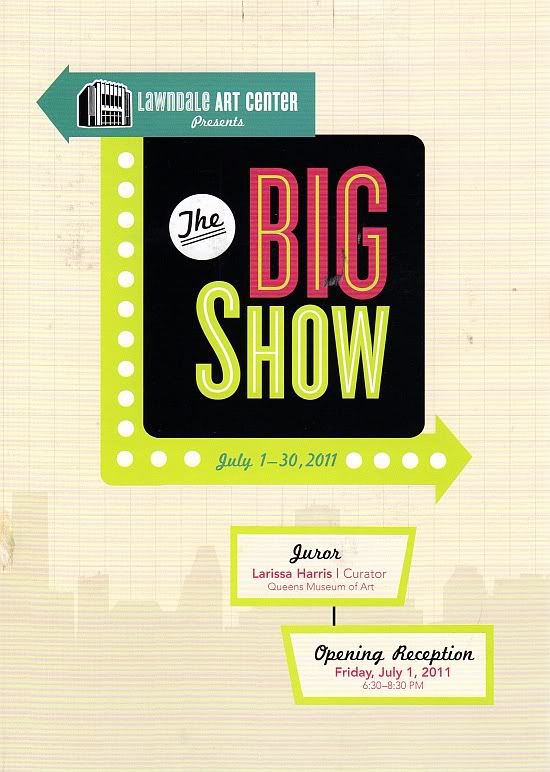 The Big Show:
Tomorrow (Thursday, June 16) at 5 pm is
the deadline for dropping off your art at Lawndale
for
The Big Show
. I know there is a picture you made with construction paper, glue and dried noodles back in your closet somewhere that is a freaking
masterpiece
--bring it down to Lawndale and enter it!
Man Bartlett Interview:
Twitter performance artist Man Bartlett is
interviewed
by
Jane Harris
in an article that includes a photo from
#24hClerk, the performance he did here
at
Skydive
. (Houston's own
Nancy Douthey
makes a cameo appearance.) The headline describes Bartlett as a "Rising Art Star." Awesome--maybe the two Man Bartlett collages I bought after his performance will help pay for my retirement! (
Huffington Post
)
The odds are long, but you can't win if you don't play
What Are Your Chances of Winning An Art Prize?
Christine Wong Yap crunches the numbers for you in
an article that looks at applicant pools for various residencies and prizes available to artists
. I like reading these articles where someone has taken data and crunched some numbers about the art world (see Claire Ruud's
current series on Glasstire
for another example of the genre). (
Temporary Art Review
)
The Most Hilarious Headline Prize
goes to "Dale Chihuly Mounts World's Biggest Bong Retrospective."
The review
, by Kyle Chayka, is pretty awesome, too. By the way, am I the only person who has noticed that some of Chihuly's
Chandeliers
(made of delicate, beautiful hand-blown glass) look really similar to
Aurora Robson's Lift
over at Rice (made of trash)? (
Hyperallergic
)