by Robert Boyd
I wrote a few weeks ago about
Kickstarter campaigns in the Houston art world
, and I want to update one of them. You have 9 days left to fund
the Many Mini Residencies
. For their final push, they've created a new video (above) that explains the whole thing.
At this point, the residents have been chosen and they have been slotted in. Remember, Many Mini is an art residency at
Skydive
(
an earlier incarnation was done in Berlin
), but instead of an artist getting space to work for a week or a month or whatever, the artists get space for a maximum of 12 hours. In the end, only
Chuck Ivy
applied for a full 12 hour shift (as far as I can tell). Everyone else is doing a briefer residency. The
schedule
is now up on the Many Mini website.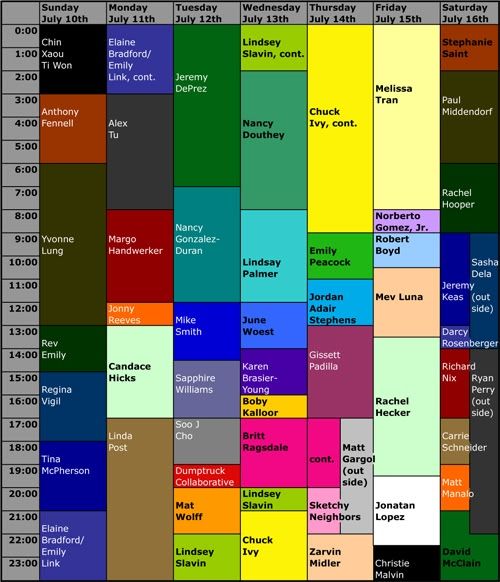 Many Mini schedule
As you can see, there are
a lot
of artists participating. Some of these residencies will be open to the public, but I don't think they all will. (I assume the website will clarify this soon.) Notice what's happening on Friday, July 15 at 9 am. Yep, I will be doing an hour-and-a-half residency. My plan is to write a
Pan
post. I may take photos and talk to some of the artists who will be there earlier in the week and write about them. But I'm keeping my options open. And yes, my residency will be open to the public, if you want to stop by and ask questions. (
Skydive
is on Norfolk near
Star Pizza
--go check it out. They are usually open every Saturday.)
Some of Houston's
best artists
will be there, doing their thing--including
Elaine Bradford
,
Linda Post
,
Jeremy DePrez
,
Emily Peacock
,
Rachel Hecker
, and many others.
There are some travel expenses for some participating artists involved, as well as some other expenses (the video and
the Kickstarter site
details this). Consequently, it will be
very useful
to get this Kickstarter grant, which comes purely from the generosity of folks like you, my dear readers. So if you haven't done so, head on over to
Kickstarter
and make a pledge--no amount is too small! (But bigger donations get better premiums--just like public radio!)