by Robert Boyd
Until I saw
Elegant Violence
, Perry House's exhibit at the
Art Car Museum
, I wasn't all that familiar with his work. I had seen Perry House's last two gallery shows (at Nau-Haus and
d.m. allison
), both of which featured paintings of candy-colored suburban houses being blown away.
Elegant Violence
features work from 30 years of his career, and was, for me, a revelation. House is a veteran of
Fresh Paint, a key exhibit in Houston's art history
, but he has been a painter for far longer and has been
a fixture on the Houston art scene since the mid-70s
.
Elegant Violence
isn't a full-scale retrospective, but it does cover a significant span of time. I want to look at four paintings, completed between 1989 and 2007.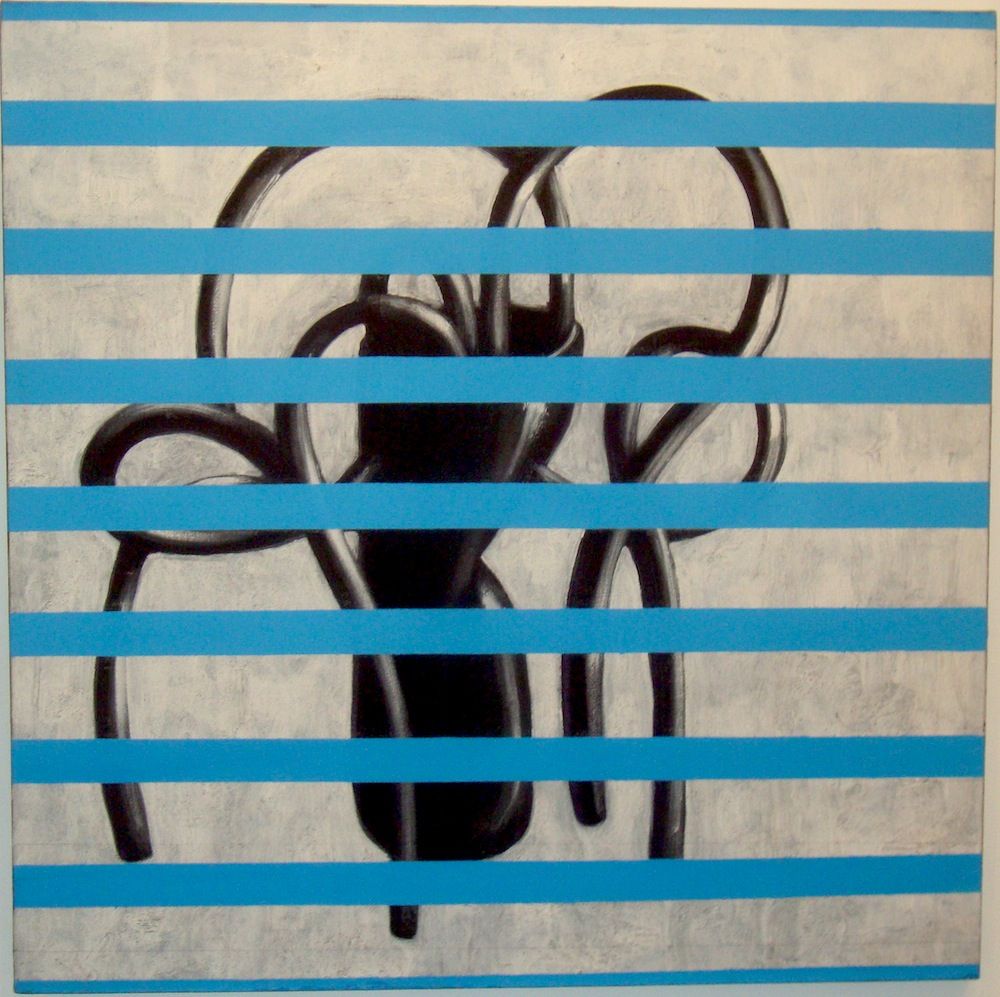 Perry House, The Vase (Intrusion Blue), 1989, acrylic on canvas, 48" x 48"
The Vase (Intrusion Blue)
depicts a black modern vase with four black hoses or tendrils in it. One end of each of the hoses is in the vase and the other ends rest on the same surface the vase rests on. But that surface is not depicted--instead, the vase and the hoses are floating against a splotchy white background. Then layered on top are a series of very flat blue horizontal stripes. Every aspect of this piece is sets up an expectation that is foiled. The vase--realistically modeled--should be resting on a surface, casting a shadow, etc. The vase should be empty or have flowers in it. And the painterly underneath is overlaid by flat geometric elements. (The stripes remind me of a horizontal
Daniel Buren
.) The whole thing has a mysterious presence. The stripes remind me of blinds, and looking through blinds makes me think of spies or peeping toms. But why would anyone spy on this weird black vase? And what are these tendrils?
Perry House, The Curtain, The Ship of Fools, 1991, acrylic on canvas, 60" x 132"
There is a sailboat and a curtain made of the same material in
The Curtain, The Ship of Fools
. The material is dull and metallic with curly filigree. But it doesn't make sense that these are the same material. The curtain must be cloth. The boat however appears solid. Or maybe it is made of cloth--maybe that's why it's a ship of fools.
The Curtain, The Ship of Fools
, like
The Vase (Intrusion Blue)
, features a well-modelled black-and-white image combined with a single flat color--in this case, ultramarine blue.
Perry House, Double Chintz I (Southern Dinners Series), 2003, acrylic on canvas, 36" x 36"
Twelve years later, color comes to the fore in
Double Chintz I
(Southern Dinners Series). "Chintz" was originally a term applied to brightly-colored printed cloth, and later was applied to mass-produced ceramic objects with similar patterns. So we have the green object (which could be ceramic, I suppose) against what I assume is cloth. I interpret this as something seen from above. The green object looks a little like a bedpan, but it's hard to say what it actually is. The primary thing is that we have two aggressive floral patterns juxtaposed. Unlike the previous two pieces, color is quite important here. In each of the two chintz patterns, we see red and yellow flowers against a background color--violet for the surface and green for the "bedpan." And our eyes perceive the red and yellow differently against green as opposed to violet. This piece deals with our perceptions of color--it's weirdly similar to
James Turrell's new Skyspace at Rice University
in this regard. This piece makes it hard for me to take House at face value
when he said,
"The fact is I'm not very aware of color. I focus on value, what's needed to make forms recede."
Perry House, 7.25.07 (Aftermath Series), 2007, acrylic on canvas, 60" x 60"
But that statement could be true in regards to pieces like
7.25.07
. There are basically two colors in this painting--a blue-green with various values and a flat yellow-green as the ground. And here, House is using differences in value to create volume and depth. This counterbalances the jumbled composition--a random landscape of twisted metal, crumbling blocks and rubble. This painting is from the Aftermath Series, and the implication is that we are witnessing a building or street after some explosive violence--a terrorist attack or aerial bombing or shelling. There are
areas of Homs that look like this now
.
The common thing for all these paintings is an inchoate feeling of menace. That menace is not overt, except in
7.25.07
. But nonetheless, I sense it when I look at his paintings. Like certain surrealist paintings, they suggest a creeping dread or anxiety--which is not overpowering, but rather is gradually sneaking up on you. Not all of his work has this feeling, but much of it does.