Gilbert Hernandez, "The Laughing Sun" part 2, page 3, ink on paper, 1984
I started reading
Love & Rockets
with issue two. I had missed issue 1 somehow. I was blown away and an instant fan of Jaime Hernandez.
Gilbert Hernandez
seemed like the less interesting of the two brothers initially. But then in issue 3 (I think!) he started telling a story about Palomar, a small town in rural Mexico or Central America. (Later you learn that it is in a fictional Central American country, but that wasn't spelled out at first.)
The first few stories featured five teenage boys--Heraclio, Israel, Satch, Vicente and Jesus. As readers of
Love & Rockets
devoured each new issue, the story skipped ahead and we saw Heraclio suddenly as a young adult. And in "The Laughing Sun," all of the boys we had come to know were now men. Jesus is married and has a baby. On an especially hot day, he snaps, wrecks his house, and hurts his wide and baby (neither seriously, though). He then steals a car and heads up into the mountains. Heraclio convinces the sheriff that he can retrieve Jesus--he's afraid that there may be violence but he believes that if he can talk to Jesus, he can avoid it.
Heraclio calls up Vicente, Satch and Israel, all living in other towns now, and they set off on a tense journey filled with flashbacks. It's a great story, one of Gilbert's best. With the Palomar stories, Gilbert proved himself to be a great comics artist--one of the all time greats as far as I am concerned. I was thrilled to be able to buy this page.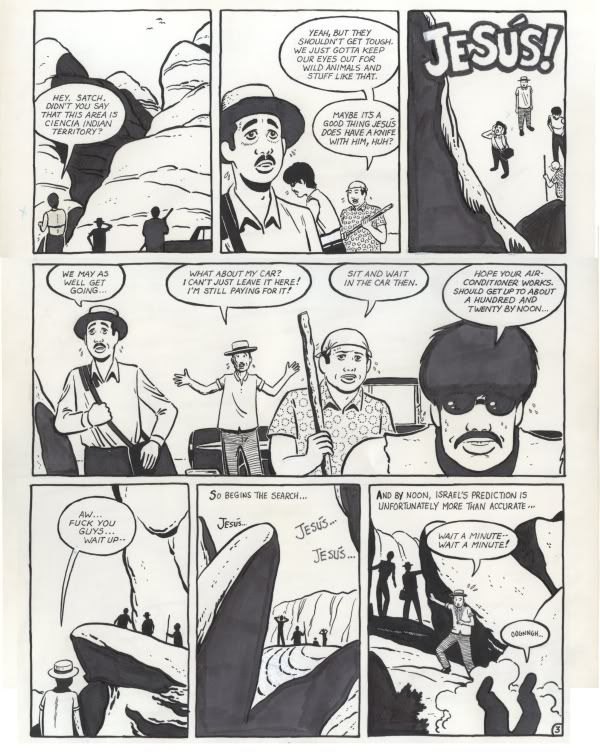 Gilbert Hernandez, "The Laughing Sun" part 2, page 3, ink on paper, 1984
Here is the pages scanned as a color image. You can see Gilbert's paint-strokes in the solid black areas--he knew they would not be visible when the piece was reproduced. Otherwise the art is extremely clean (in the sense that it looks extremely close to the final printed page).