Sometimes when you are checking out the new shows that have opened over the weekend, you will see pieces at different venues that seem like they should have been part of the same exhibit. That's the hand of the invisible curator, who arranges art exhibits that exist only in my mind. Call her my higher power. I think of her as
Tyche
. Here's the small exhibit she pulled together for me this weekend.
Donald Lipski, untitled, mixed media, 2010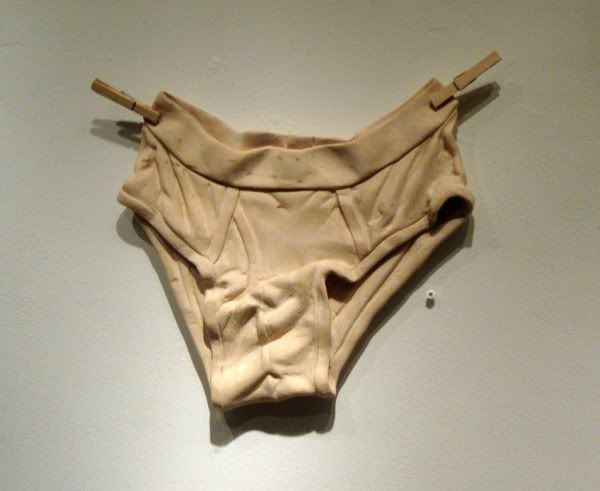 Chris Hedrick, Tighty Whities, linden with clothes pins
The former piece is from the exhibit Plenitude at Barbara Davis Gallery. It is a group show with a bunch of blue-chip artists, including
Donald Lipski
, whose work I have been a fan of since seeing an exhibit of his in London in 1986 (!). He was to do
a public sculpture for Houston
at the water works up by Lake Houston. I went up there to see if it had been installed a year ago, but it wasn't. Apparently it never will be--according to
Lipski's blog
, the Department of Homeland Security declared the site was too sensitive to be open to the public, so the
HAA
was looking for another location. But that was in April, and Houston's finances are dire. Does anyone out there know what the status is on this?
Chris Hedrick's
woodcarvings, like
Tighty Whities
, play with the idea of soft vs. hard, a subject that has fascinated sculptors since
Phidias
put his figures in wet robes on the Parthenon. I hope to review his current show at
Nau Haus
later this week.