I am shocked to find out that
Jerry Weist died
today. Jerry Weist was behind one of the seminal comics fanzines,
Squa Tront
, which ran from 1967 to 1983. As many of you can guess from the title, it was an EC fanzine, and one of extremely high quality. Weist also founded one of the first comic shops,
The Million Year Picnic
, in Cambridge, MA. By the time I move to Massachusetts and started shopping there, Jerry had sold it and was working for
Sotheby's
. But it was always a very progressive shop and in the mid-90s, it was one of the few places in North America where one could get copies of the new wave of European art comics (L'Association, Amok, etc.)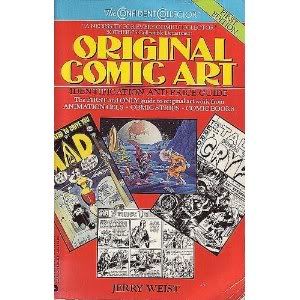 I first got to know him when he was working on his
price guide
for original comic art. I think the deal was that Kitchen Sink Press was going to publish it, but when KSP went under, he just self-published. But he came up to Northampton a couple of times to visit, and I persuaded him to include some more modern alternative comics artists like Dan Clowes and Adrian Tomine in the book. The book was itself a bit of a sham--the prices were based on real prices (Weist had lots of Sotheby's data to go by, plus he knew most of the dealers of original art in the country), but as I demonstrated in
my analysis of Jaime Hernandez art prices
, art from a single artist can vary wildly in price.
But on reflection, I don't think Jerry was trying to
impose
a price on the art he was listing. The thing was, the market for original comic art was very undeveloped then. (It's still hardly a mature market, in my mind.) The natural market for this artwork--comics fans--were still obsessed with collecting
comic books
. The market for collectible comic books had been carefully nurtured by
Robert Overstreet
for over 20 years by the time Jerry wrote his original art price guide, and
Wizard Magazine
pushed comics collecting even further. I think Jerry wanted to reach all those people who were buying collectible comics and say--here's something truly
unique
, the
actual artwork
. A price guide was a familiar way for those people to think about collecting, so I imagine Jerry thought it would be a good way to make them feel comfortable about a whole different
level
of collecting.
That said, I don't think it completely worked. Sotheby's discontinued its comics auctions (that business has largely moved online to
Heritage Auction
and eBay). But it worked well enough that Jerry published two editions. And things like this are needed--collecting original art can be very intimidating.
Jerry was an extremely likable guy who loved comics, comics artwork, and science fiction. He also introduced me to my favorite Italian dish, pasta puttanesca. So long, Jerry.