by Robert Boyd
It has been an art-filled two weeks, Pan readers. There are several reviews in line, but before I got to them, I just wanted to pay homage to a few random pieces of art that I saw recently.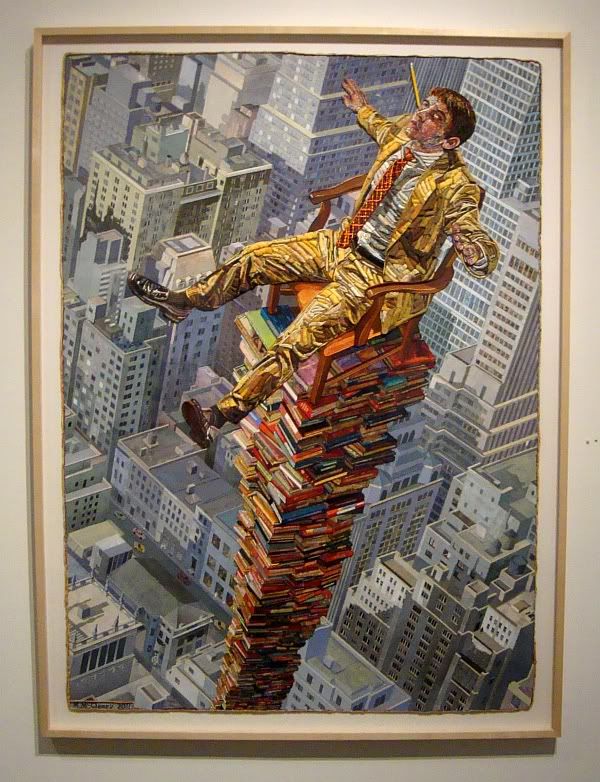 Mary McCleary, Tower, mixed media collage on paper, 2011
Mary McCleary's work is always a pleasure to look at. This one is hanging in the middle gallery at
Moody Gallery
. (And for $60,000 it can be
yours!
)
Dario Robleto, Defiant Gardens, mixed media, 2011
When I write "mixed media" in regard to this work by
Dario Robleto
, I am taking a liberty. As anyone who has ever checked out a work by Robleto knows, he lists every bizarre ingredient on the little information tag--and this list is essential to the art. You might even say the list is
part
of the art. Here's what he made
Defiant Gardens
from:
Cut paper, homemade paper (pulp made from soldiers' letters sent home and wife/sweetheart letters sent to soldiers from various wars, cotten), carrier pigeon skeletons, WWII pigeon message capsules, dried flowers braided by war widows, mourning dress fabric, excavated shrapnel and bullet lead from various battlefields, various seeds, various seashells, cartes de visites, gold leaf, silk, ribbon, wood, glass, foam core, glue
You can see
Defiant Gardens
in the rear gallery at
Inman Gallery
.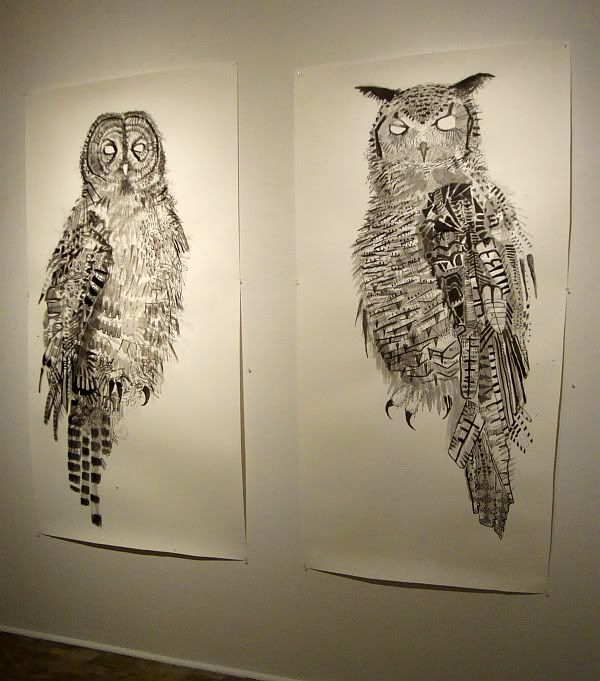 Jules Buck Jones, Great Grey, ink on paper, 2010
Jules Buck Jones
drew these owls with spooky blank eyes. I include them here because I like owls. (Did you know that Jules Buck Jones was a member of
Boozefox
?) You can see his work now at
McMurtrey Gallery
.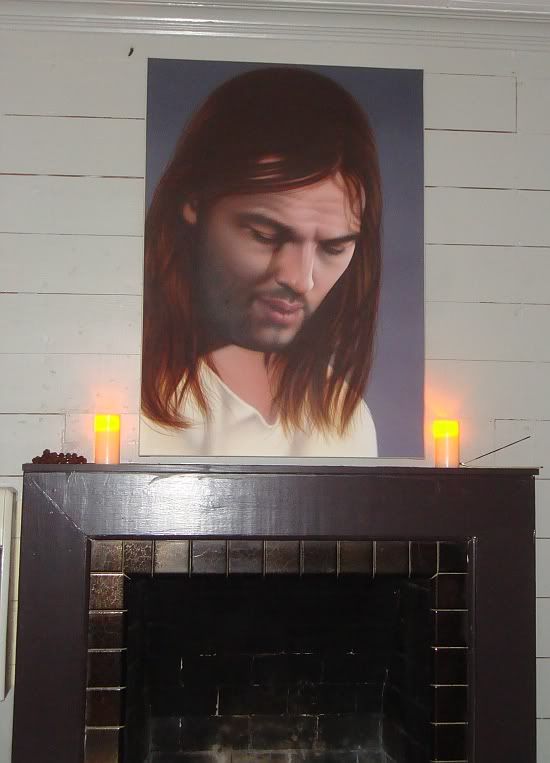 Rachel Hecker, Jesus, 2011
This was what I saw (when I used the flash on my camera) at The Chapel,
Rachel Hecker
's residency at
Many Mini
. This was the description:
For two hours, the residency space will be converted into an ecumenical/non-denominational chapel for prayer, worship, meditation, or quiet reflection. The centerpiece of the chapel will be a painting of Jesus based on a photograph of Pink Floyd's David Gilmour. The Rev. Rachel Hecker has received the Credentials of Ministry from the Universal Life Church, and will perform ministerial services, as requested.
My photo above is a misrepresentation. The only light in the room was from candles and a little light leaking in from outside. It was a gloomy environment. Hecker had three rows of hard wooden pews (her denomination must be quite staunch--no fancy padded pews for the congregants). This was a one-night-only even, but I'm sure
this painting (and more like it)
will be on display somewhere sometime soon. Probably
Texas Gallery
.Here's what it looked like--sort of--in the dark.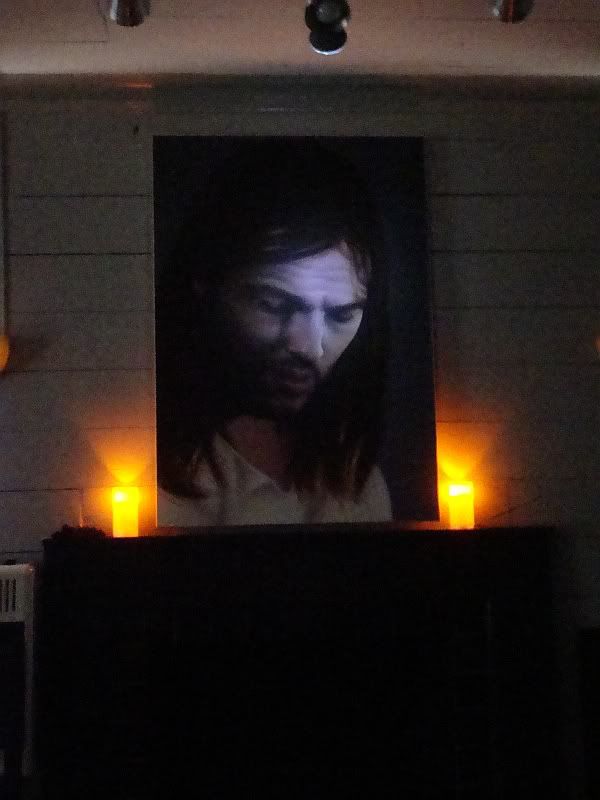 Rachel Hecker, Jesus, 2011