by Robert Boyd
There is something oddly nostalgic about
Edward Lane McCartney
's new exhibit, "Shift," at
Goldesberry Gallery
. When you see a piece like this:
Edward Lane McCartney, Folio Chromatique #7, paper, paperback books, 2011
...you imagine it in a stylish 60s flat. This is space age bachelor pad art, and there's
Martin Denny
and
Esquival
on the stereo. Given that the work is inspired by Op artist
Carlos Cruz-Diez
, it seems like the sixties is the right period. The
Folios Chromatiques
are made of old paperback books with intensely colored paper glued into the pages.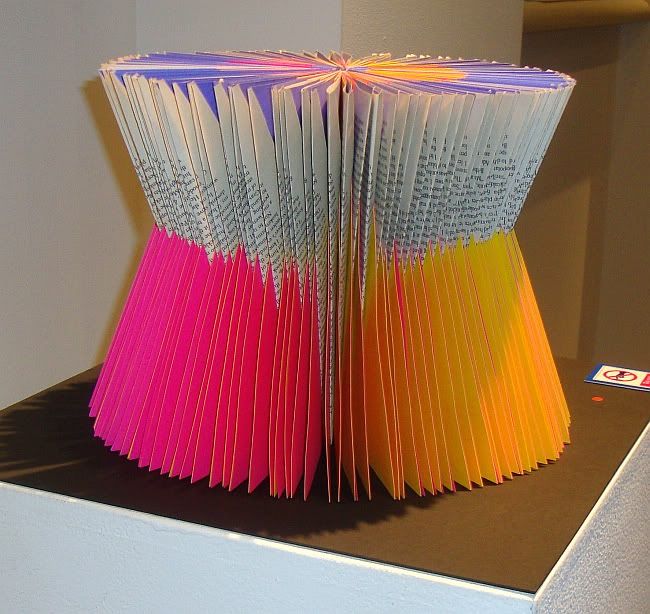 Edward Lane McCartney, Folio Chromatique #2, paper, paperback book, 2011
Edward Lane McCartney, Folio Chromatique #1, paper, paperback book, 2011
Edward Lane McCartney, Folio Chromatique #6, paper, paperback book, 2011
When I say they look like decorations for a space age bachelor pad, what I'm also saying is that they look
decorative
. And there's nothing wrong with this. I tend to think the same thing about Carlos Cruz-Diez's work. It does, however, represent a shift in McCartney's work, which has for the last few years been quite political--with pieces dealing with
America's wars
,
Don't Ask--Don't Tell, AIDS, the Catholic Church's pedophilia scandal
and more.
So is there any continuity between this work and his previous work? Yes. McCartney here as before takes an extremely humble object (in this case, paperback books) and through his incredible craftsmanship, turns it into something beautiful and witty. In the past, he's accomplished this with plastic army men, band-aids, fishing lures and plastic champagne glasses. McCartney is a trained jeweler and (I think) a silver-smith. By taking those skills and the patience needed to use them, and applying them to humble and even ridiculous materials, he has created a signature approach that this current show is very much a part of.
In addition to the
Folios Chromatiques
, this show includes a lot of McCartney's typically witty jewelry--in this case, earrings and bracelets made with overlapping pieces of clear plastic printed with parallel lines. They create moire patterns, which again references the Op art of the sixties.
Edward Lane McCartney's alter to Craftism
In addition to "Shift," McCartney and Cat Coombs reprised their
Kenmore installation/performance
, "Craftism." Again, McCartney does his magic of transforming the mundane--this time with a mini-fridge.