by Robert Boyd
Hyperallergic
has a
couple
of really
great posts
about artists not getting paid. The main article is by art provocateur
William Powhida
. The title is suggestive:
Why Are (Most) Artists (So Fucking) Poor?
But the post doesn't address this question in a general sense, but rather discusses a small but obvious part of it. In this article, he talks about a survey of artists who displayed work in New York non-profit spaces between 2005 and 2010 by
W.A.G.E. (Working Artists and the General Economy)
.
On Friday evening W.A.G.E. presented the results of its 2010 survey of payments received by artists who exhibited with nonprofit art institutions in New York City between 2005 and 2010. The survey found that 58% of artists who responded received "no form of payment." The audience, including Artists Space director Stefan Kalmár, asked questions critical of the survey methodology, but did not refute the group's findings. W.A.G.E. has partnered with Artists Space to explore the development of a self-regulatory model, mandating the implementation of a fee schedule within the institution. Presenter A.K. Burns explained one of the rationales for artists fees, "nonprofits get money from different sources for public education, and the artist is the educator. We are wondering why the artist isn't being paid?" That artists should be remunerated for their cultural value in capital value is one of W.A.G.E.'s positions from its statement and one that remains controversial. [William Powhida, "Why Are (Most) Artists (So Fucking) Poor?", Hyperallergic, April 23, 2012]
When you think about this, it's kind of weird. I am on the board of
Frenticore/Frenetic Theater
. I've looked at our books in great detail. When we put on a show (for example, the Houston Fringe Festival), we pay the performers. We are a non-profit, so we get our money from donations, grants, and charging folks to see the shows we produce or charging folks to use our theater space for their own shows. Why would an art exhibit at a non-profit space be different? (By the way, if you have an act and want to be in the
Houston Fringe Festival,
the deadline for submission is May 1, so get to it!)
But a theatrical or dance performance
is
different. First, it's expected that the theater will charge people to see it. And more important, with a performance, the
performance itself
is the work. And so we pay for the
work
. A visual artist, by contrast, has something physical to sell (I'm not going to get into the issues around installations or other temporary/immaterial artwork). So the theory is that for an artist, being in a show at a non-profit space gives you exposure with which you can then leverage to sell physical artworks. An exhibit at such a space is like a really long television commercial for your work. And there is some truth to this. Greater exposure in high-profile venues makes selling work easier, on average.
The question is whether this justifies
no payment at all
from the non-profit venue. I don't think so. Sure the artist gets a small, indefinable benefit, but so does the institution. They aren't showing this work as a favor to the artist. So in a way, they are like any other venue for creative work. If a magazine or newspaper publishes your work, they pay for one-time rights. A non-profit venue should do the same.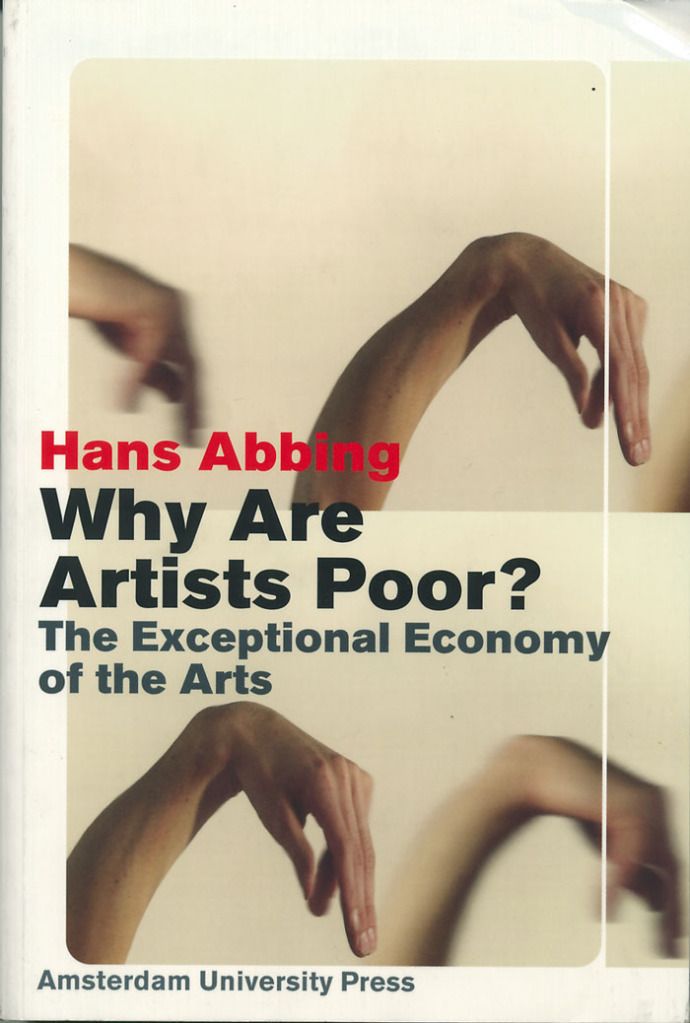 Hans Abbing, Why Are Artists Poor?: the Exceptional Economy of the Arts. I have no idea if the contents of this book, which I have not read, are relevant here, but it seems apropos.
One argument that a non-profit might make is that they don't have a lot of money. And with certain exceptions, this is true. I don't expect non-profit art spaces, as a class, to suddenly conjure thousands of dollars out of thin air to pay artists. But they should pay artists, and the money needs to be taken from within the institution. Maybe this means fewer shows per year, or a smaller staff or less marketing. It would be a real sacrifice. I'm not denying it. But as someone who sits on the board of a non-profit that pays its artists, I know it can be done.
One wonders how it got to this state. But the answer is economically obvious. More people want to be artists than there is demand for art. In fact, people are willing
to be poor
if that's what it takes to be artists. It's one of those professions that attracts way more people than can be reasonably paid. So this makes it a buyers market--and non-profit art spaces are, essentially, buyers of art. I don't mean that that they have collections, but they do essentially
rent art
for six weeks or so at a a time. And right now, the rent they pay is close to zero. That should change.
To see a bunch of infographics put together by W.A.G.E. on this topic,
see this post
.
(Fair disclosure.
The Great God Pan Is Dead
doesn't pay a
piaster
. Dean Liscum is being totally exploited by me. I am an utter hypocrite. Just thought I should point that out.)