So today I decided to stop by the new Deborah Colton Gallery location on North Blvd. near Rice Village. I walked into a huge gallery space with enormous pictures. A few moments later, a man walked up to me, shook my hand, and introduced himself as Lester Marks. I introduced myself, and he asked right away, "Are you a collector?" I was a bit surprised--I had never been asked that at a gallery before. If I had had time to think, I might have thought, is he sizing me up as a possible customer? Does he want to know whether it is worth his time to talk to me?
But I didn't really even have time to form a thought. I told him I was a collector on a very small scale (as both regular Pan readers know). He then told me that he was one of the biggest collectors in the world, and director of this gallery, and therefore he didn't need to make sales. He invited me to enjoy the art, explore the galleries, ask him any questions I might have.
It was a truly strange encounter! I have to admit, I thought Marks was kind of a loon. Who goes claiming to be one of the biggest collectors in the world? But it turns out he
really is
a big collector, perhaps one of the top 200 in the world. (I say "perhaps" because he was listed in the
Art News top 200 in 2004
, but hasn't been listed in their annual since--that said, I have no idea what the criteria for being on that list is.) A quick Google search showed that he is definitely a local art mover and shaker. It just goes to show that sometimes, when someone says something completely
crazy
, it might nonetheless be
true
.
Anyway, the art--they had multiple group shows going on, and I found it very jumbled and confusing. Some pieces were good, some didn't move me at all (blown up polaroids of Madonna, for example). Here was one piece I saw: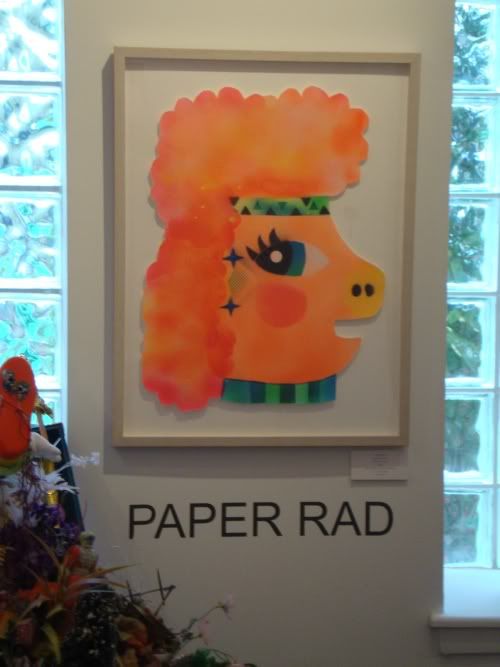 Guess who made this? Heh. (I had seen a
Paper Rad
video piece at Debrah Colton a few years ago, too, back when she was upstairs from David Addickes.)
This new gallery has tons of potential, but I think they will benefit from focusing on one or two artists at a time, and from being less scattered in their curatorial approach.