by Robert Boyd
The third annual
Cinema Arts Festival's
schedule has been released, and among its many interesting items are a few movies that I personally consider must-see movies. Here are my recommendations:
!Women Art Revolution
by Lynn Hershman. I first heard about this documentary on feminist art two years ago at the Cinema Arts Festival when
Hershman was a guest
. It's gotten somewhat mixed reviews, but I think it's going to be a crucial film--Hershman has been filming interviews with key feminist artists since the late 60s or early 70s--basically banking the footage for decades. So what I'm expecting is to be seeing interviews with people like
Carolee Schneemann
,
Miriam Schapiro
and
Judy Chicago
right at the beginnings of their careers--in the heat of the moment, so to speak. A must for anyone who is interested in the history of art since the 60s.
Crazy Hors
e by Frederick Wiseman. Kind of the polar opposite of
!Women Art Revolution
is this documentary about the creation of a floor show at Paris's famous strip-tease club,
Crazy Horse
.
Frederick Wiseman
is, of course, one of the great documentarians, whose work includes
Titicut Follies
and
Welfare
.
Trimpin
by Peter Esmonde. In the early 90s, I lived in Seattle and often checked out the local art happenings at the
Center on Contemporary Ar
t. The director was my friend Larry Reid, and the shows he put on were real crowd-pleasers (and opening nights at COCA were the hottest tickets in town). It was at COCA that I first encountered
Trimpin
, a German sound artist who lived in Seattle at that time (and maybe still does, for all I know). The first Trimpin piece I saw (and heard) was a room full of wooden shoes, arranged in a grid, hanging from the ceiling. You could walk through the grid among the shoes. Each show had a small electric motor inside that would bang a clacker against the inside of the shoe. The motors were controlled by a computer. So in effect, these shoes--hundreds of them--were a gigantic computer-controlled percussion instrument that you could immerse yourself in. Who wouldn't want to see
a documentary
about the guy who created that?
Free Radicals: A History of Experimental Film
by Pip Chodorov. Another interesting looking art-history film. When I first saw the title, I thought it was going to be a film about Nick Cooper's band, which would have been cool. But this sounds fantastic--interviews with people like Michael Snow, Ken Jacobs and Stan Brackage, including some complete shorts by some of these filmmakers. One thing that interests me especially is that the film discusses the filmmaker's status of being neither fish nor fowl--neither commercial filmmakers nor part of the art world as it was then constituted. This is an issue I think about a lot, especially in regards to people who make art comics--which currently occupy a similar no-man's land that the experimental filmmakers did in earlier decades.
Over Your Cities Grass Will Grow
by Sophie Fiennes. With a title like that, one could be excused for imagining an unusually poetic post-apocalyptic science fiction movie. Instead, this is a documentary about
Anselm Kiefer
and the "city" he is building. But perhaps the initial impression isn't so wrong. The photos I've seen make La Ribaute, Kiefer's estate, look very much like a bizarre post-modern ruin. As an artist whose work has
dealt so much with destruction
(particularly the destruction of Europe and European Jewry in the second world war), this project seems apt and the film sounds fascinating.
Pieter Breugal, The Procession to Calvary, 1564
The Mill and the Cross
by Lech Majewski.
The only fiction film
among my "must-sees", this nonetheless has an art angle--a highly unusual one. The film is based on the painting
The Procession to Calvary
by Pieter Bruegel (1564). Essentially Majewski enters the crowded image to tell the stories of the people pictured (and there are hundreds of people depicted). The stills look spectacular--I'm hoping the film lives up to the images I've seen.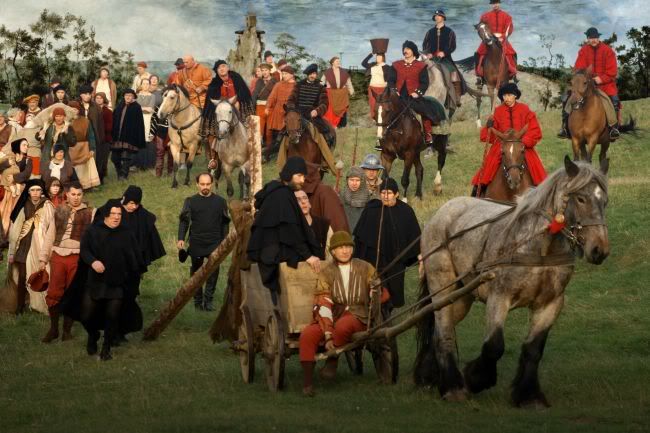 Lech Majewski, still from The Mill and the Cross, 2011