by Robert Boyd
Ward Sanders
is a San Antonio artist who has had four solo shows at
Hooks Epstein
.
Full disclosure:
I bought a piece by Sanders at his last show
. His work involves getting old wooden boxes or containers and filling them with scraps of paper and objects. The result is a tiny collection of objects that seem to tell a story of recall a forgotten time or place. They are all backward-looking--reliquaries for an imagined past. This time around, Sanders has added a literary element to it.
Ward Sanders, The Death of New Orleans, assemblage, 2011
I was lucky enough to speak to Sanders at the opening. I told him the combination of deliberate, artificial archaicism with a sense of mystery reminded of the writing of Jorge Luis Borges. I mentioned the story "Tlön, Uqbar, Orbis Tertius," in which a group of bibliophiles stumbles first across evidence of an unknown (fictional) country hidden in an encyclopedia, then a whole world, Tlön, which they come to realize is slowly taking over our world--even though it is completely fictional.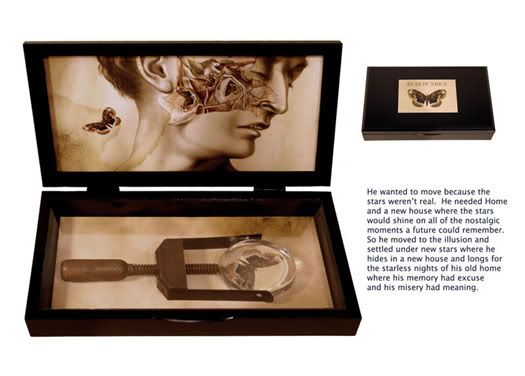 Ward Sanders, The Stars of Home, assemblage, 2011
This lead us into a conversation about literature that brings a fictional reality into the "real world"--he mentioned
Invisible Cities
by Italo Calvino as a major influence. We spoke of George Saunders, Will Self, and Flannery O'Connor. He talked about how
David Eagleman's Sum: Forty Tales from the Afterlives had influenced this current show, as had his readings on fossils and paleontology.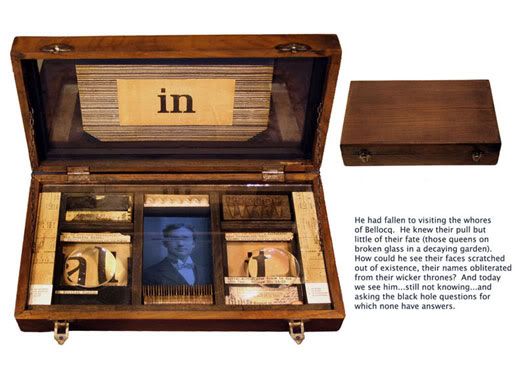 Ward Sanders, The Whores of Bellocq, assemblage, 2011
Literature was on Sander's mind when he made these pieces. The addition of the text, written in a formal voice, somewhat old-fashioned--a little like Borges--moves the work from an already fuzzy location as visual art to some hybrid. I usually recoil when artists include writing in their work. There are two problems with this practice. First, the writing is usually too long. It's an imposition to make someone in a gallery or museum read long texts. But worse is that the writing is almost always terrible. Most artists are not good prose stylists.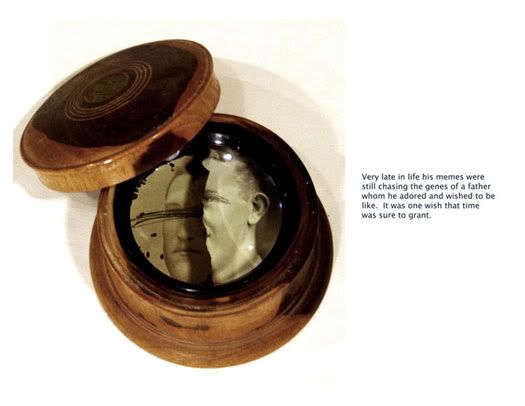 Ward Sanders, Homily on Genetics, assemblage, 2011
Sanders avoids both errors.Just as each box feels like a fragmentary record of something much greater, each text feels like a fragment of a novel or story that I personally would like to read. Something Calvino-esque.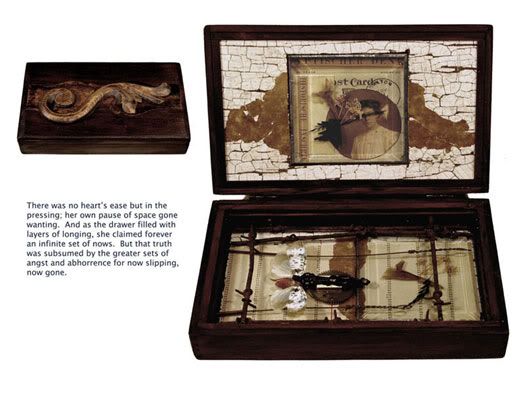 Ward Sanders, Emily Dickinson's Herbarium, assemblage, 2011
Two of the works refer directly to New Orleans, a city where the past seeps into the present like no other American city. "The Whores of Bellocq" refers to E.J. Bellocq, who took many photos of the whores of Storyville. When you see these photos, you can see how they might appeal to Sanders. But his work is allusive--he doesn't use any of these well known photos in the work itself.
As should be obvious from the photos, these are works of consummate craftsmanship. And there is an obvious link to the work of Joseph Cornell, but without the powerful feeling of francophilia that pervaded Cornell's work. Sanders work might make us think of Cornell or Borges, but it is rooted here in this part of America.
(All photos from Hooks Epstein.)