Skydive is an artists' space
that until now has been located on the 9th floor of 3400 Montrose (the building that was, until recently, the home of Scott Gertner's Skybar--on the 10th floor). This building has had
some problems which have prompted Gertner to close down his bar
. Now, according to Skydive co-director Sasha Dela, the new owners are evicting everyone in advance of a major refurbishing of the building. It's sad news for Skydive, but hopeful news for the building, which is not bad. A little run-down, but in lots of ways just right for an urban neighborhood. It has retail space on the ground floor, then office space on floors 2 through 9, and the nightclub space on the 10th floor. This kind of arrangement helps guarantee maximum use of the building, and lots of interaction with the neighborhood. I compare it with the building I work in, which is also 10 stories. There is no interaction with the street or the public--the ground floor is a foyer with a guard, a cafeteria for tenant use only, and some store rooms. All the other floors are offices that are totally unoccupied from 6 pm til 7 am, except for the occasional late worker and the janitors. So I like the basic concept of 3400 Montrose, and hope the building retains that vibe after being remodeled.
That said, Skydive is now in the position of having to find a new home. Dela said she was interested in finding another office space--and given how cheap office space is in Houston right now, that would be a good idea. Anyway, to celebrate the end of the old Skydive and (hopefully) the beginning of a new Skydive, they had one final exhibit in the old space. It was a
one-night only event
, with friends of Skydive exhibiting various small pieces of artwork in a completely haphazard manner. Artwork was scattered somewhat willy-nilly in the tiny front room.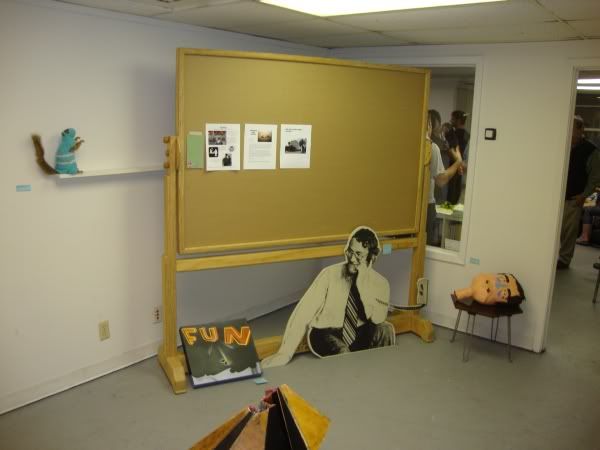 Instead of nice white printed informational labels, the art was labeled--often in the hand of the artists themselves--on blue post-it notes. The whole thing felt like it had been kluged together at the last second. And despite all, I'll be damned if it wasn't a fine show with excellent pieces by some of the best artists in Houston.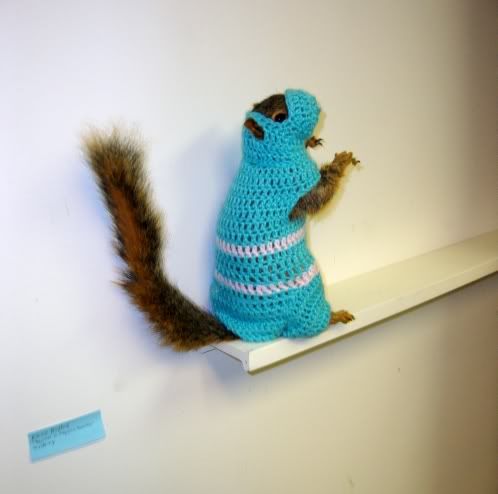 Elaine Bradford, Squirrel in Turquoise Sweater, taxidermy, knitted wool
This ninja squirrel is nothing we haven't seen before from
Elaine Bradford
, but it's so
cute
! It's about the smallest Bradford piece I've seen (and unless she starts knitting outfits for mice and humming birds, probably about the smallest she is going to do).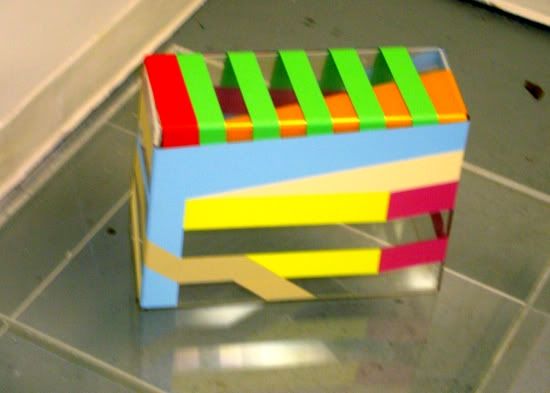 Jonathan Leach, P.S.2, acrylic on plexiglass, 2010
Jonathan Leach also supplied what feels like a tiny version of his usual pieces. Not that his pieces are typically enormous, but as was fitting for Sydive's small office foyer, where perhaps a receptionist/secretary once sat in 3400 Montrose's early days,
P.S. 2
was perfectly to scale with the room. (One weird thing about having a gallery in an office is the drop ceiling--something you never really see in a museum or commercial gallery.) As usual, my photo of it is terrible.
Photographing Jonathan Leach's artwork
is no simple task. Normally I'd say, go to the show and see it in person, but that is not an option this time. Just take my word for it that it looked very nice.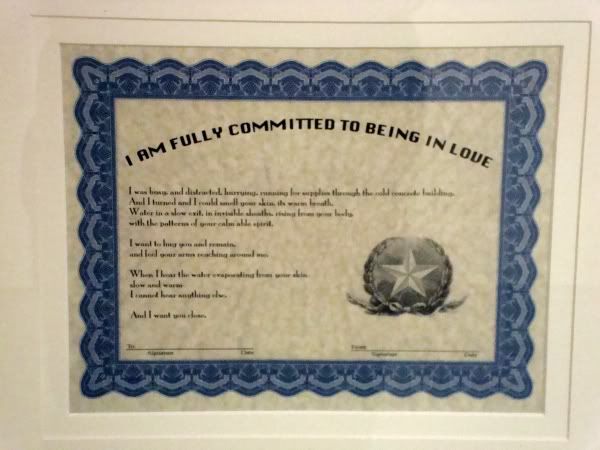 Sasha Dela, I Am Fully Committed to Being In Love, digital print (3/10)
Sasha Dela
wrote two poems and printed them out on these official-looking documents--the kind of certificate you might get for completing an continuing education class. I'm sorry my photo doesn't permit you to easily read the poem (I don't mean for the inadequacy of my photographs to be a continuing theme--it's just an unpleasant fact). But the title works with the "official document" feel of the presentation, which in this case was also framed and hung one the wall. Ideally, it would be hung among other diplomas and certificates on a real office wall. Indeed, of all the pieces, Dela's was the one most perfectly at home in Skydive's ratty office space.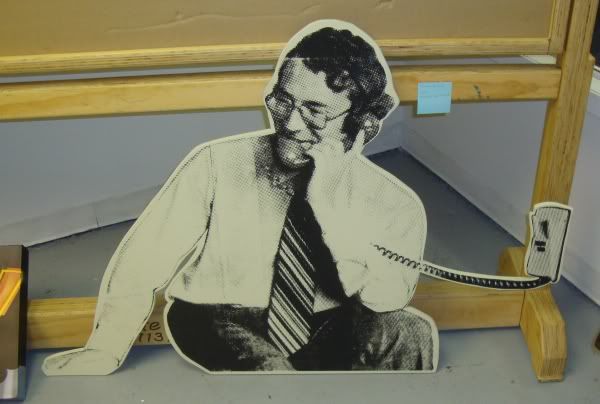 Ariane Roesch, untitled, screenprint on board, 2008
That said, this piece by
Ariane Roesch
, featuring a smiling, can-do 80s-vintage business executive, is pretty perfect for an office, too. Instead of big, generic abstractions, corporations should decorate their lobbies with art like these two pieces.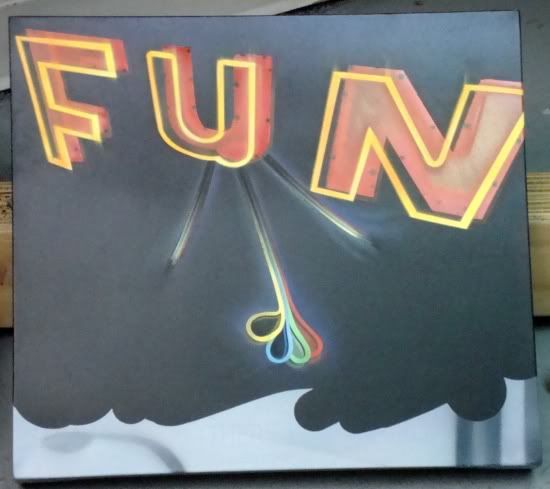 Greg Donner, Fun, acrylic on canvas, 2009
Continuing in the theme of bad photos of good artwork, this piece by Greg Donner had some faint witing along the bottom of the canvas, which my photo has managed to completely obscure. It's killing me that I can't remember what it says. Something about the world not being real, I think. Not a sentiment I agree with--I'm a materialist. So for him, "Fun" may be ironic, perhaps the opposite of detachment or inner peace. But I looked at this piece and thought of
Sly and the Family Stone
. When I party, I party hearty.
Emily Sloan, Riffle, wood and acrylic, 2009
Emily Sloan
's piece reminds me of her piece from last year called
Black and White Picket Fence
. They both are snaky wooden floor pieces that stand up about a foot and a half off the floor. I like both of those pieces--I'd like to see a room full of them. There's something about pieces that high that is kind of inviting (you look down at them like you would on a pet or crawling baby) and simultaneously threatening (they are just the right height to trip on).
There were other pieces worth note (for some reason, I didn't take a picture of Brian Piana's cool piece--just as well, I'm sure it would have been out of focus or something). But the piece I liked best was a performance of sorts by
Genevieve Buentello
.
Genevieve Buentello, Abstain, performance with lipstick, 2010
So this piece,
Abstain
, deals with Mexicans and Americans and violence and cliched images of the Mexican Revolution--specifically the image of the revolutionary woman with bandoliers. Buentello's bandolier is not filled with cartridges (they would fall right out--she is wearing a modern bandolier sized for shotgun shells), but with lipstick. As she writes in her statement, "Instead of shots fired, I see lipstick kisses. Instead of blood, I see love."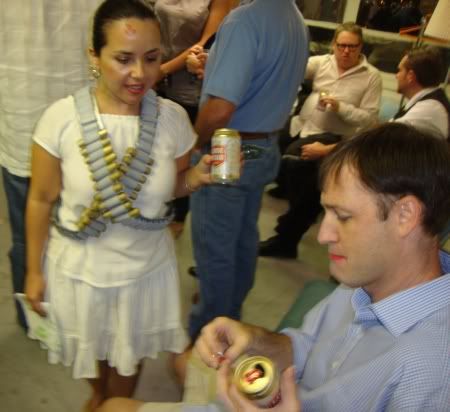 Genevieve Buentello, Abstain, performance with lipstick, 2010
Genevieve Buentello, Abstain, performance with lipstick, 2010