Every year for the past 23,
Lawndale
has had a show of "
retablos
" made by local artists. The artists pick up an 8" x 10" piece of tin from Lawndale and can do with it pretty much anything they want. I don't think the artists are even required to use the tin, but it does provide a limit to the size of the work. Two hundred and forty-five retablos were made, many by well-known local artists, but most by artists that are, as far as I could tell, "Sunday painters."
This show is a big fund-raiser for Lawndale. Funds are raised two ways. First, the works are auctioned off on opening night, and the artist can agree to give Lawndale some part of what he gets for selling her work. (Or the artist can take all of it. Or give Lawndale all of it.) Second, to attend you have to pay a fairly pricey entry fee. So this is sort of Lawndale's "gala."
Like Box 13
, the way they raise money is through the sale of a bunch of small artworks. In this case, it was a silent auction. Each piece had a slip of paper next to it with the title, description, artist, and minimum bid. People wrote their bids on the slip until 8:45 pm, when the auction was officially over.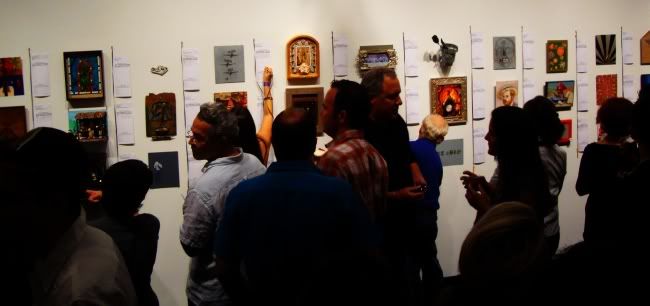 In about the middle of this picture, you can see a woman writing her bid. Now if you wanted to, you could see all the pieces in advance--Lawndale
posted them on Flickr
. That's what I did. Like the old comics nerd that I am, I made a "want list" before I went to the show.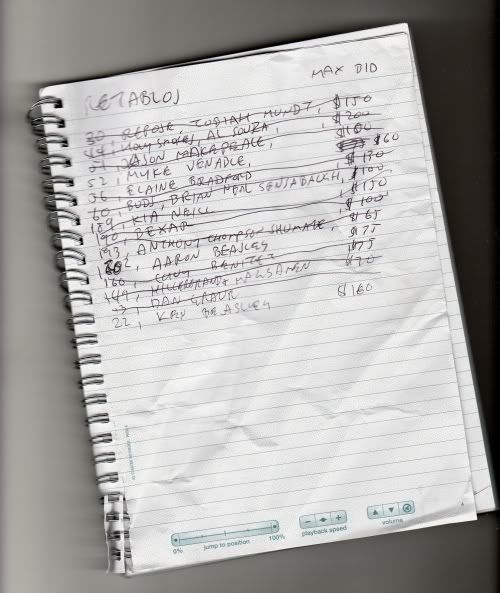 The ones that were crossed out were ones where I was outbid. I expected that, so I'm not disappointed. Some of the names on this list are among Houston's best known artists. I would have loved to have gotten an Al Souza, but it quickly got up to $400 (and maybe more--I stopped looking after a while). One guy, a collector who signed his bids "Haynes," was constantly outbidding me--he and I had similar tastes apparently.
In the end, I won three pieces. I didn't take pictures of them, but you can see them on Flickr. Weirdly enough (and quite by accident), two of the pieces I won are by brothers, Kenneth James Beasley and Aaron Beasley. Kenneth James Beasley's piece is called
Fallen Painter
. Aaron Beasley's piece is a parody of Damien Hirst, called
The Mental Impossibility of Life in the Mind of Something Dead
. It looks like it might be a mess to keep because it contains a real dead shark in a jar. I'll let you know if it starts stinking. The third piece is by
Myke Venable
and it is called
Recycled Retablo
. Venable will be in a group show called
The New Black: Contemporary Concepts in Color and Abstraction
(along with
Jonathan Leach
,
Mike Guidry
and
Katherine Veneman
) that opens October 28, 2010, at Williams Tower. If you are in the Galleria area, check it out.