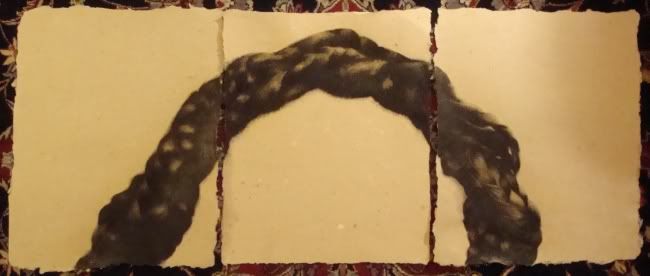 Rabéa Ballin, Encomium 1-3, black prisma color, charcoal, white conte, Galkyd on handmade paper, 2010
I first saw Rabéa Ballin's work in
a show at Joan Wich gallery
. The pieces were all highly detailed depictions of African-American woman's hairstyles, usually involving complex braids. They were drawn on very big pages with black prisma pencil. The hair was shown with no reference to the human body, except for the curve of the skull from which the hair sprang. Drawn this way, they almost seemed abstract! I really liked them, but I thought the use of the black prisma pencil. This kind of pencil doesn't make a super-dark line, so the resulting drawings didn't have extremely high contrast between light and dark.
After
Joan Wich died
, the gallery was closed down and its artists were scattered to the winds. Ballin ended up at
Linda Darke Gallery
, where she was included in the recent group show dedicated to Louise Bourgeois. I saw Encomium 1-3 and was knocked out. Adding charcoal to her drawings gives them a darker, heavier presence. This is amplified by the brown handmade paper. There is a compromise involved in using charcoal. You can't get quite the precise detail you can with most pencils. But in this triptych, it works great. When I saw it, I instantly thought of a rainbow--a rainbow of braided hair. So I bit the bullet and bought it. I look forward to seeing much more work from Ballin, and I'm really proud to have this piece.