There is a category of art that I call "s
tunt art." It's art where the artist has done something so unlikely that you can't help but be impressed, whether or not the art is really good. Samuel Johnson said, "
Sir, a woman's preaching is like a dog's walking on his hind legs. It is not done well; but you are surprised to find it done at all." We'll leave behind Johnson's 18th century notions of women; stunt art is to art like a walking dog is to great dancer. You are impressed with stunt art, but if you think too hard about it, you start doubting its value as art. A good example of stunt art would be the pencil lead sculptures that seemed to be sent all over the internet recently.
So given this forthright condemnation of stunt art, I am chagrined to admit how much I like Diem Chau's carved crayons.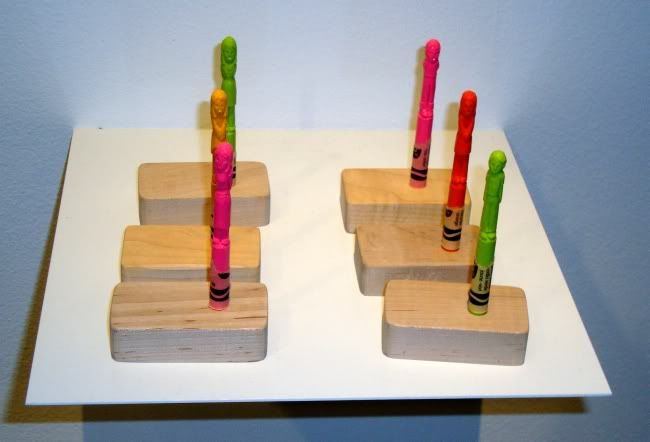 Diem Chau, untitled, carved Crayola crayon

Diem Chau, untitled, carved Crayola crayons
There is something appealing about Crayola's colors, and these tiny totems (any relation to her home in Seattle?) seem so fragile, so cute.

Diem Chau, untitled, carved Crayola crayon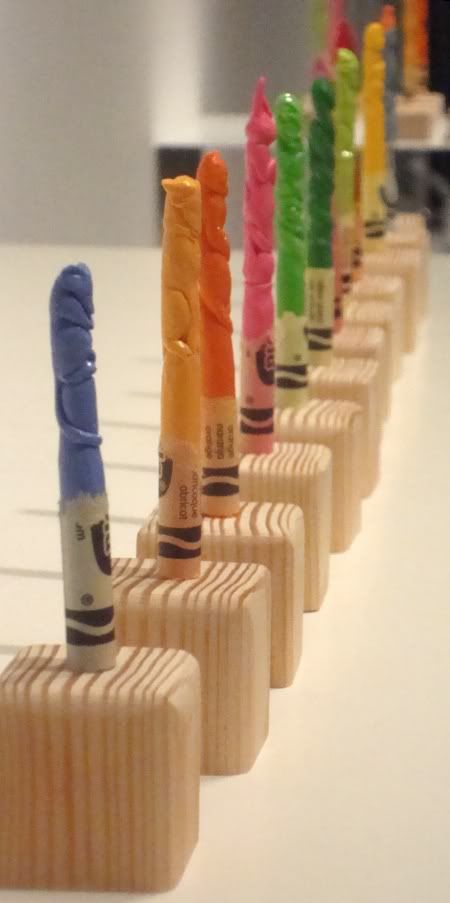 Diem Chau, untitled, carved Crayola crayons
I think it was easy for me to forgive her for being a stunt artist because some of the other art she had in the show.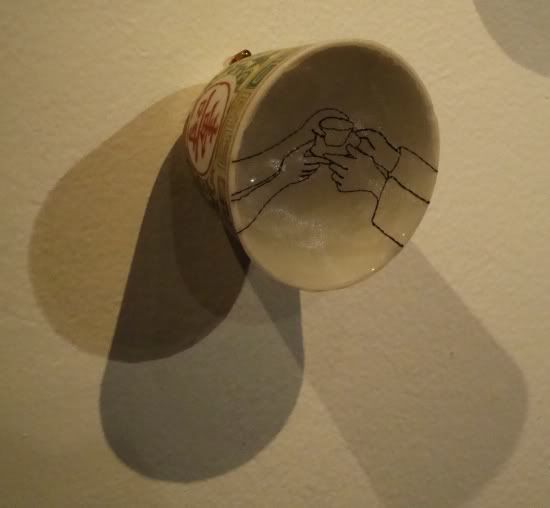 Diem Chau, Offering, porcelain cup, silk organza
These other works consist of porcelain plates and cups, over which an embroidered silk scrim is stretched. The embroidery is usually a line drawing of part of a person (the whole figure is never visible), looking casual and ordinary.
Diem Chau, Girl, porcelain plate, silk organza
Chau's drawings are clear and concise, leaving out as many details as possible while still being completely recognizable. Their spareness and the casualness of the presentation belies the high level of craft involved.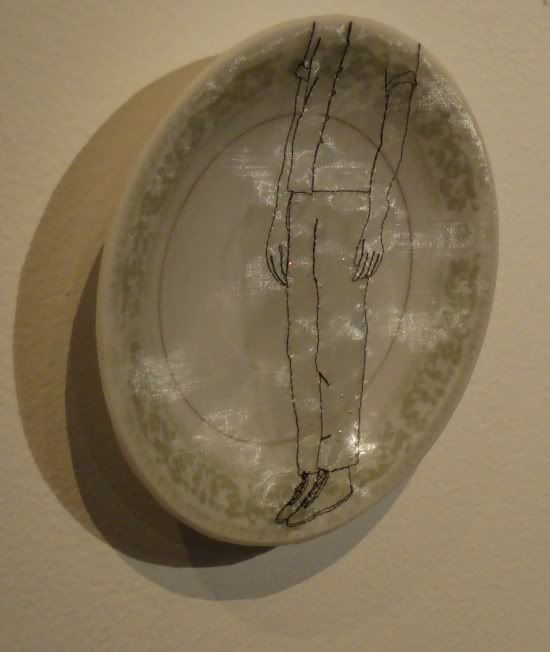 Diem Chau, Linger, porcelain plate, silk organza
What does this aesthetic--high craft mixed with a casual matter-of-factness--remind me of. I think one can look at certain modern comics artists, like Gabrielle Bell or many of the artists published in Mome. I think one can find work that operates similarly on Etsy. It's an approach I like a lot. This work has the kind of homey beauty that you think of grandmothers creating--needlepoint samplers, quilts, etc. It is art with a comforting domesticity.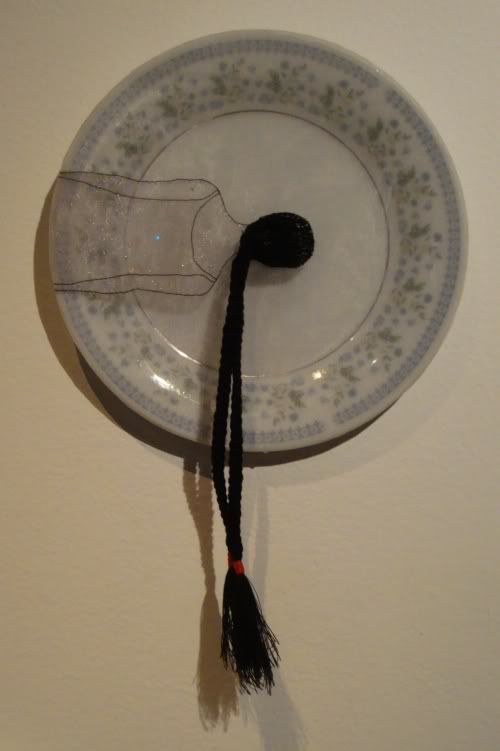 Diem Chau, Float, porcelain plate, silk organza
As this was Peel Gallery, there was also something semi-useful for sale. Instead of their usual jewelry, which I don't have enough interest in to be able to judge, they had stereo speakers. Weird, huh? Something for all you audiophiles/design lovers.
Joey Roth, ceramic speakers and amp, 2009
These speakers not only look cool, but they crank pretty good, too. Joey Roth got other designers to make their own versions of his speakers, which were pretty interesting too.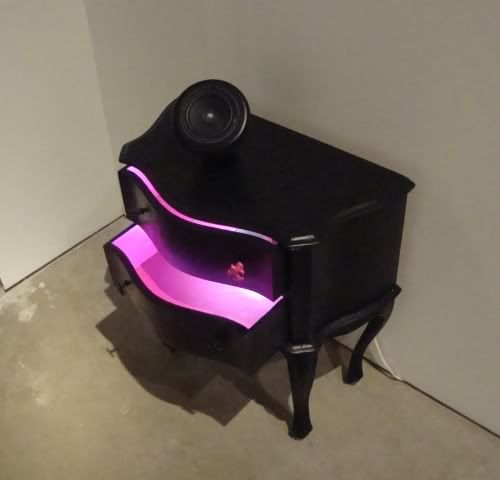 Matthew Waldman, wood, fluorescent lamp, paint, porcelain speaker, 2010
Sruli Recht, cardboard speakers, 2010
I'd love to have those cardboard babies. But I figure that to own these, you have to have a huge space, and it has to be interior designed within an inch of its life. There are a few mod houses here and there where that would work--not mine though. I live is a cluttered space where books and art fight it out for existence. Still, those are some handsome speakers...