A few weeks ago, I
read in the Comics Reporter
that
Nexus
cartoonist
Steve Rude
was in danger of losing his house to foreclosure. He was having kind of
an eBay fire sale
to stave off the sheriff (there is still stuff for sale there--check it out). I have been a fan for a long, long time, and even though Rude's art was not the kind I usually collect (specializing, as I do, in pre-1960s comic strips and more contemporary alternative and art comics), I figured this was a unique opportunity to get some and help out an artist I truly admire in his time of need.
Here's the piece, scanned in color (even though the art is black and white).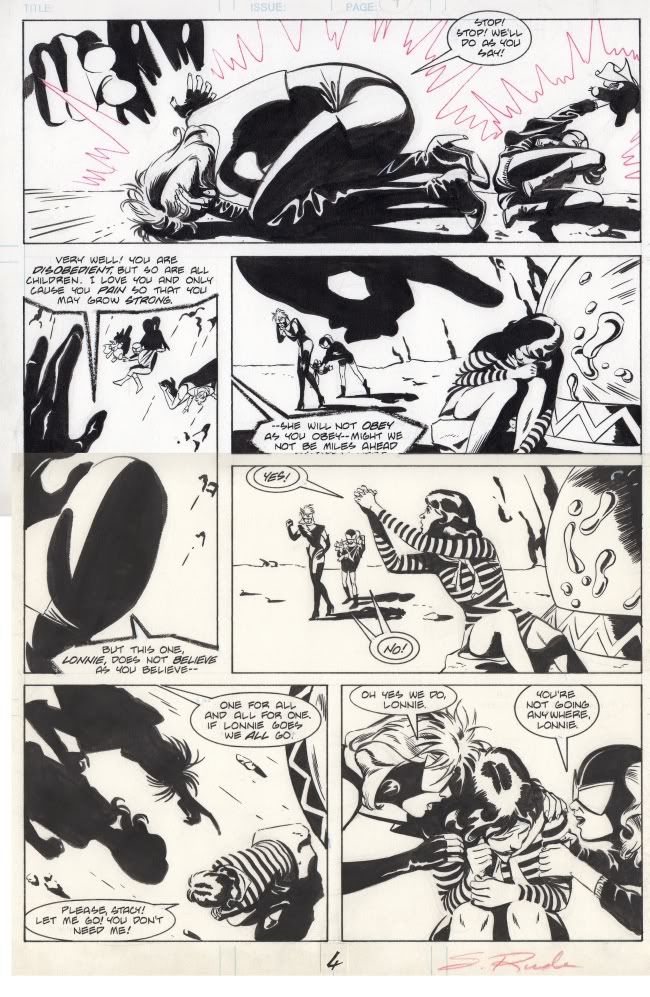 Steve Rude, Next Nexus issue 2, page 4, ink on bristol paper, 1989
Nexus was a comic written by Mike Baron and primarily drawn by Steve Rude. The two created the series together. It debuted in 1981 and I think I discovered it as a reader in 1982 or 83. It was a science fiction superhero series about a man in the far future who is beset by dreams that instruct him to kill mass murderers. The first murderer he kills is his own father, who had been governor of a Soviet planet and ordered its destruction when it looked like rebels might succeed in taking it over. In his guise as a cosmic avenger, the protagonist goes by the name Nexus. If he fails to heed the dreams, he starts to suffer physically some of the same injuries the victims of the murderers suffered. The series played a lot with notions of guilt, including Nexus's own.. It was clever, exciting space opera, beautifully drawn by Rude is a very clean, very old-fashioned style, one that was very much out-of-step with his peers. If I had to give it a name, I'd call it neoclassical. His elegance and simplicity recall neoclassical artists form the 18th/19th century, but even more, they recall
Alex Toth
and certain American magazine illustrators from the 30s to the 50s.
Here is a black and white scan of the same page.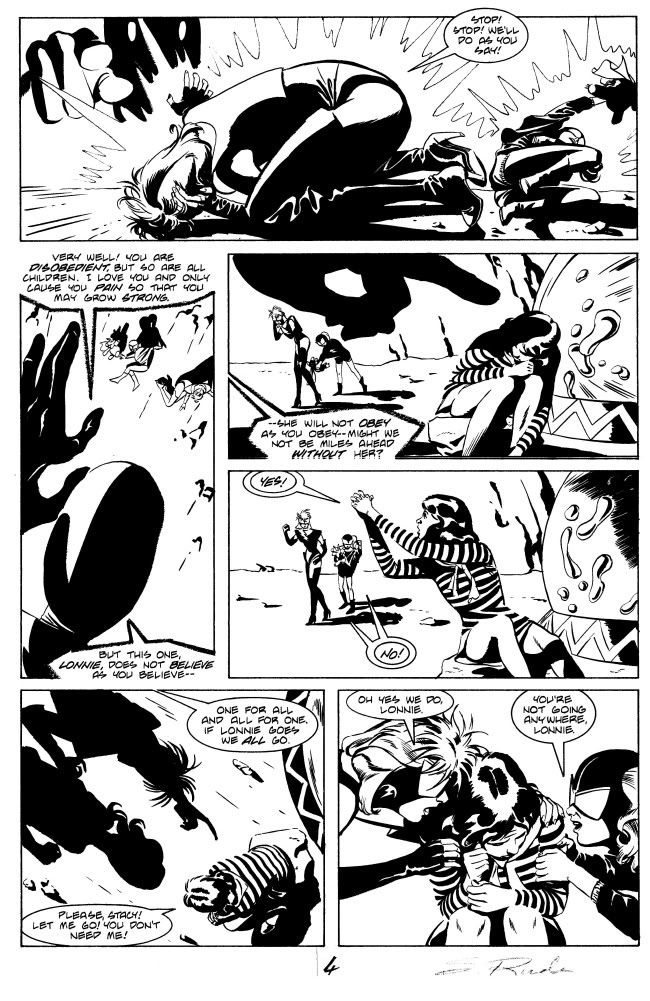 Steve Rude, Next Nexus issue 2, page 4, ink on bristol paper, 1989