by Robert Boyd
About two months ago, I wrote about how
a bunch of Houston galleries were moving
. But timing is everything.
Thom Andriola's New Gallery
was meant to move into Sicardi's old space on Richmond while Sicardi moved to a new custom-built space on Alabama. But the Alabama space is not ready, and New Gallery's lease has run out (PEVETO, a
"fine arts resource management company,"
has already moved into New Gallery's old Colquitt space). So what's Andriola to do? Move in next door to
PG Contemporary
on Milam. I assume that this is somewhat temporary (and that they'll end up at Sicrardi's old space). New Gallery had an opening last week in the Milam space. I'm well familiar with the space--it's where I put on
Pan y Circos
in conjunction with PG Contemporary. I think it's a pretty good place for a gallery. When and if New Gallery moves out, I hope some other gallery moves in.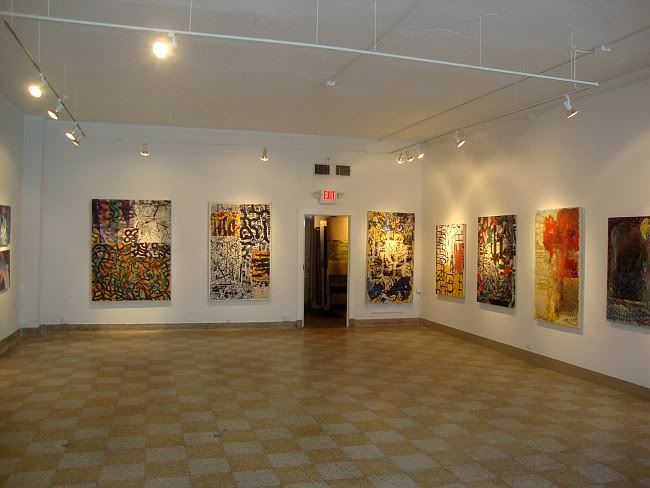 installation view. Ibsen Espada paintings.
So to inaugurate the new space, Andriola did a show of artists represented by the gallery. It seems that recently he has been going in for representing some of the older Houston artists--
Ibsen Espada
,
Earl Staley
and the estate of Dorothy Hood. Andriola will be serious competition for
William Reaves
.
Earl Staley, Human Condition, acrylic and glitter on canvas, 70 x 38 inches, 1975
Andriola not only had a bunch of Staley's new work, but also had this glam-rock painting from 1975. Glitter on a Staley! Who'd have imagined it?
Earl Staley, Human Condition (detail), acrylic and glitter on canvas, 70 x 38 inches, 1975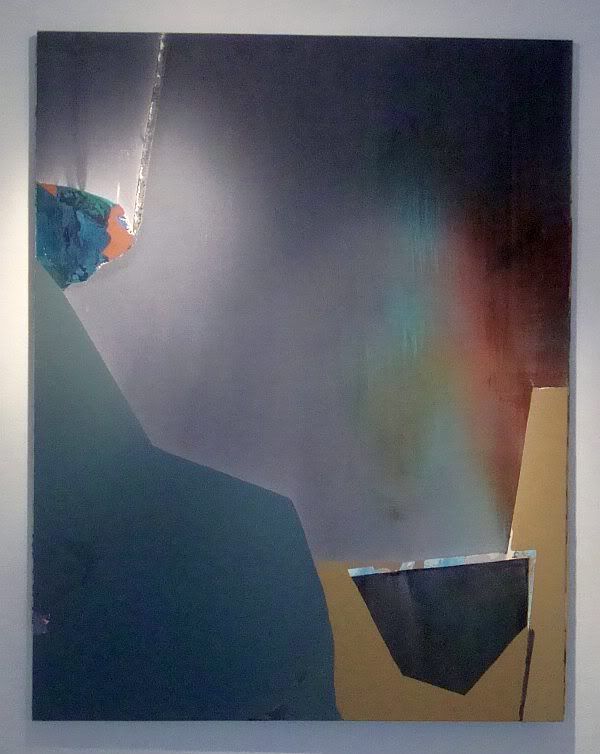 Dorothy Hood, Space of the Rainbow, oil on canvas, 89 x 72 inches
This Dorothy Hood painting is a bit more geometric and sleek than most of
the other work I've seen by her
. Consequently, the influence of
Clyfford Still
(which I see in her work) is muted. This piece has an interesting composition, but it doesn't have the power of other Hood canvases.
Thedra Cullar Ledford, Five Thousand Trashy Romance Novels, approximately 5000 used paperback books, concrete, graphite, 45 x 45 x 48 inches
I was completely amused by
Five Thousand Trashy Romance Novels
by
Thedra Cullar Ledford
(co-proprietor of
Independence Art Studios
). But I thought that it should have been displayed a little further from the wall. Sculpture is meant to be walked around--sculptures need space on all sides. And this space that Adriola has--for a while, at least--can accommodate that.