by
Robert Boyd
Ricky Armendariz, Tu eres loca pero yo tequiero anyway, 2012, oil on carved birch plywood, 24" x 24"
Ricky Armendariz
's paintings in
Tu Eres O No Tu Eres Mi Baby (Is You Is or Is You Ain't My Baby)
at the
Art League
consist of two elements. There is a painted surface, usually just a couple of colors in a suggestive arrangement that could be read as something real or could be seen as an abstraction. Then there is a drawing or some lettering incised into the surface (the paintings are on plywood) with a fine router. The painted part is moody, dark and suggestive. The engraved drawings are humorous, direct and ironic. And it is the juxtaposition of these two unlike aspects that makes the work so interesting.
A lot of the work here is about juxtaposition--language, for example. English and Spanish co-exist in one sentence.
Tu eres loco pero yo tequiero anyway
(You're crazy but I love you anyway). And in this piece, the festive paper-lace decorations are superimposed on an ominous silhouette of an explosion.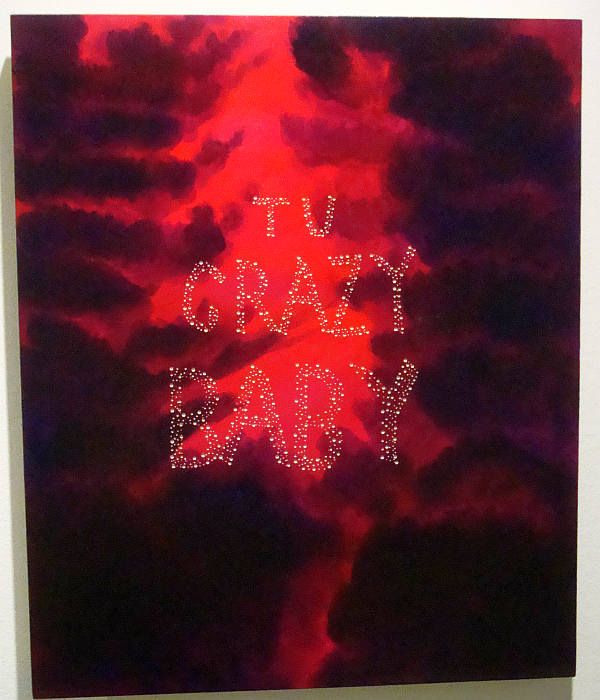 Ricky Armendariz, Tu Crazy Baby, 2012, oil on carved birch plywood, 20" x 24"
Work like
Tu Crazy Baby
is simultaneously ominous and funny. The expression uttered by a lover, "Tu crazy baby," can be playful or fearful. Your crazy lover may be a high-spirited clown. Or he may be violent or self-destructive or wildly unpredictable. Those dark roiling clouds could be his mind, opaque and unsettled. My first reaction was to laugh, but the implications are not necessarily funny.
Armendariz in his discussion of the work on opening night spoke of
narcotraficantes
and their wars in towns like Juarez, just across the border from Armendariz's hometown of El Paso. He mentioned the work of
Rigoberto A. Gonzalez
, who had
a show earlier this year at the Art League
. Gonzalez didn't shy away from grisly paintings of severed heads, but Armendariz issn't willing to commit that kind of image to plywood. He deals with the drug war in a more oblique way.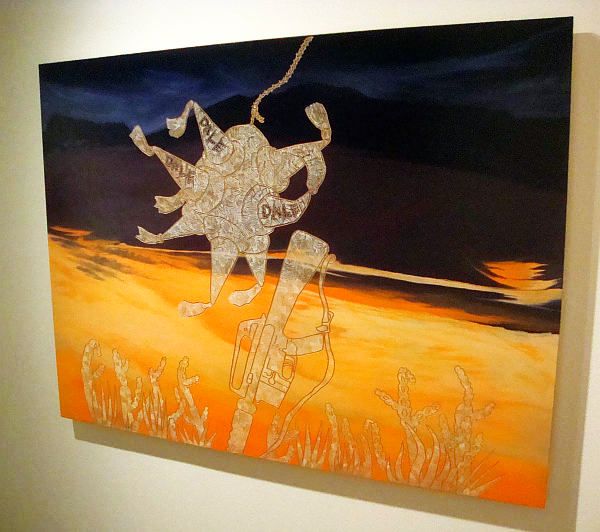 Ricky Armendariz, Dale Dale Dale, 2010, oil on carved birch plywood, 36" x 48"
In
Dale Dale Dale
(more or less, "Wow Wow Wow"), the piñata is being struck by an automatic rifle. In
Burro
, the wheel comes off what Armendariz identifies as a
narcotraficante's
fancy new truck.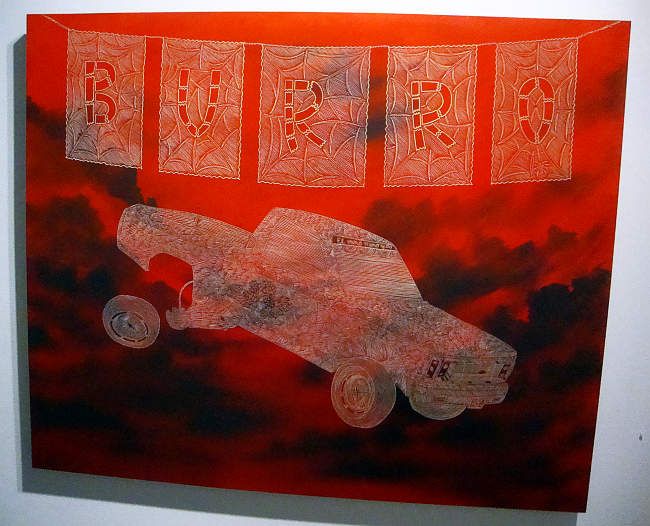 Ricky Armendariz, Burro, 2012, oil on carved birch plywood, 32" x 39"
And
Dame Dame Dame
("Gimme gimme gimme") has a military helicopter flying over a dark landscape bisected by a red river--a wound? This could be the Rio Grande, where the drugs cross from Mexico to the eager market that is the U.S.A. The helicopter could then be either Mexican or American. There is a good deal of ambiguity in these works. (Including ambiguous images--the more I look at this painting, the more I think what we are actually seeing is a horizon at sunrise or sunset, with low dark clouds. All we see of the sky is the red band. And on the left are lights of a landing field or highway. It's ambiguous enough that it could be read both ways.)
Ricky Armendariz, Dale Dale Dale, 2010, oil on carved birch plywood, 36" x 48"
Ricky Armendariz, masymasymas, 2010, oil on carved birch plywood, 14" x 24"
But his overarching subject seems to be dangerous desire--wanting more and more, as masymasymas implies. Bad love affairs, drugs, money--all of these fit into that burning need for
more
. Ricky Armendariz depicts a world where things get bad, but they never get
boring
.