Eleven UH MFA candidates have their "thesis" art up at
the Blaffer
. (I'm guessing that one you've produced your thesis, you pretty much have the degree in the bag.) I saw the show twice. I was especially impressed by the work of Debra Barrera, Tala Vahabzadeh, Anne Regan and Keijiro Suzuki. Each of these artists in an installation artist (there was art in more traditional media in the show, and I want to acknowledge briefly the handsome ceramic work of Robin Lehmer).
Regular readers know that I usually write about art with lots of photos. I take them as an
aide-mémoire
and because, even though I try to include a visual description of each piece, I think seeing an image or four helps the reader. It is visual art after all. But Blaffer, like a lot of art spaces, doesn't allow photos. I took a bunch on opening night (you can often get around a photo ban at openings), but somehow managed to lose those pictures. So I went back to see the show again, and took as many pictures as I could until a vigilant guard told me to knock it off. The upshot is that I took no pictures of some of my favorite art in the show, specifically the work of Anne Regan. So all the images you see of her work are from
her website
--and honestly, her photos are better than mine would have been.
Keijiro Suzuki, installation view
Keijiro Suzuki has the most conceptual of all the art here. It asks the most of the viewers and gives up the least. It is aggressively unbeautiful and uncrafted. (Almost.) And it takes a stance that this is the correct way to be, at least for Suzuki.
Keijiro Suzuki, Authenticity of the Author, custom flag made in China, 2010
For example,
Authenticity of the Author
. So much modern critical theory has been aimed at breaking down the old romantic/modernist idea of creative genius, from Barthes' death of the author onward. Suzuki asks the viewer to question how authentic he is if he pays someone in China to produce his artwork. But it is still a piece of visual art, and it is unexpectedly interesting to look at. It looks like someone made a full-sized black-and-white xerox of an American flag onto thin polyester cloth. Jasper Johns proved that a monochromatic image of an American flag can be a beautiful thing, and there is something really nice about how the light in the gallery shines through this particular flag. Also part of this piece are the Fedex package from the Chinese manufacturer and other related ephemera--all there, I suppose, to help document Suzuki's lack of authenticity. But say what he may about authenticity, he can't deny agency. After all, he did commission this flag and did decide to display it.
The play of color and texture in
Rainbow Shoe and Ghost shoe
are all about aesthetics. The modesty of the subject and material communicate that this is not really art--or that it's "bad" art. Even its placement reinforces this--on the floor in the corner. The viewer has to
look down
on it. But damn if it doesn't look good! (Part of the piece isn't really visible in the photo--it appears that Suzuki scuffed his shoes on the wall, leaving vague dirty marks. All part of the abject feel of the piece, I suppose.)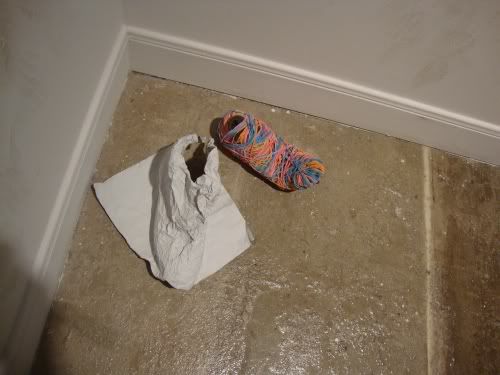 Keijiro Suzuki, Rainbow shoe and Ghost shoe, rubber bands, shoes, aluminum, spray paint, 2010
A lot of his work is expressly political. Not to gripe about Suzuki in particular, but I often wonder what the purpose of doing political work in difficult artforms (like conceptual art). I assume it's not to make an argument in favor of a position or to propagandize--if that was your goal, you'd find a more popular, accessible way to get the word out, or else put your opinion in a place where decision makers might see it. But perhaps the political issues addressed by Suzuki are just ones he feels strongly about, and it's not that important to him if a lot of people see the work or understand it.
Keijiro Suzuki, Instructions for the relocations..., mixed media, 2010
Another problem I have with political visual art is that it's usually a bit obvious. That certainly describes
Instructions for the relocations...
It consists of a large floor piece (I'm not sure if one is meant to walk on it or not) and some wall pieces where the
Instructions
are semi-obscured under tracing paper. The relocation in question is the forced relocation of people of Japanese ancestry into concentration camps by the U.S. government during World War II. So he blows up the hateful bureaucratic document instructing the Japanese to prepare to be moved and... That's it. Almost everyone who visits an art gallery is well-educated. Most of us are politically liberal. While the blown up document on the floor is visually striking, it's not telling us anything new. We know the Japanese relocations were
bad
. Consequently, almost any document blown up and put on the floor might work--shocking ones, like, say, JFK's death certificate, or one of Stalin's many signed execution orders. But even a document of a small tragedy would work--an eviction notice or a foreclosure notice or an arrest warrant. (A lot of the artists in this show have shown work in other Houston venues. Suzuki's primary outside activity has been curatorial, working with the
Station Museum
and in his own alternative gallery, the
Temporary Space
.)
In the next gallery is a large multi-media installation by Tala Vahabzadeh that includes photography, video and a clever interactive piece. The installation is called
Photo Opportunity
and seems to deal with the hijab and the burqa. Interestingly, the
student show earlier this year
had a piece called
Liberation
that also dealt with the burqa. Vahabzadeh's installation is more subtle and oblique than Liberation, but it still intrigues me that two young artists would take on this admittedly fraught subject matter.
Tala Vahabzadeh, Photo Opportunity detail, mixed media installation, 2010
As you can see, a big chunk of the installation are large beautiful portraits of a woman (Vahabzadeh?) wearing a hijab in various ways. We see a video in one corner of the room that suggests that these photos were taken in a photo booth, perhaps for a passport. (The wall-plaque says "In gratitude and memory of my grandmother and her passport photograph circa 1944"). Some of the photos appear damaged with weird, rectangular tears--I think they might be where the photos had been stapled to something and torn off (prior to being blown up massively). So an interesting investigation of how the hijab is confused with identity. But there is one last piece of the installation--an interactive piece.
Tala Vahabzadeh, Photo Opportunity detail, mixed media installation, 2010
This wooden burqa silhouette placed in front of a mirror allows visitors to inhabit that identity for a moment or two. I like it a lot because it's so low-tech--it's a variation of those old-timey carnival/beach boardwalk photo stands where you pose with your head on the body of a muscle-man or beach betty. Here, though, instead of becoming this cartoon sex-god character, you are subsumed into this vague black shape. (Of course, she made it woman-sized--so for a large male like myself, it involves some crouching down, and my broad shoulders pop out the sides.)
Debra Barrera has several elegant pieces that for the most part are no less conceptual than Suzuki's. Barrera works a little harder to make them visually beautiful, though. I only have photos of one,
Sundries: Love and Devotion
. So in the interest of space, I'm going to let it stand in for all the others.
Debra Barrera, Sundries: Love and Devotion, mixed media, 2010
So we have this elegant table setting, but not one that makes sense. Even if all you are serving is cake, you don't give each guest a cake server. What's going on here?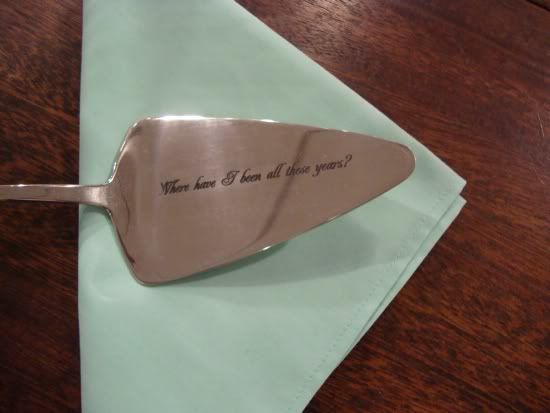 Debra Barrera, Sundries: Love and Devotion detail, mixed media, 2010
Hmmm. It turns out that these cake servers, with their broad flat shiny surfaces, make a great medium for etched phrases.
Debra Barrera, Sundries: Love and Devotion detail, mixed media, 2010
Imagine getting that one as a gift. (Of course if the recipient were a fan of the
'70s white-soul stylings of Ace
, it might be the
perfect
gift.) Still, better to get this one:
Debra Barrera, Sundries: Love and Devotion detail, mixed media, 2010
This next one almost comes off as a jab at theory, which in its dryness can sometimes seem to exclude pleasure. (Of course, this is a line from
Funny Face
, as is the song "How Long Has This Been Going On." I guess I date myself by admitting that I thought of the accusatory '70s song of the same title first.)
Debra Barrera, Sundries: Love and Devotion detail, mixed media, 2010
So what's it all about? Hell if I know. And I don't think knowing is all that important. It's enough that it's funny and elegant, like Audrey Hepburn in
Funny Face
.
Anne J. Regan is into music. Really into music. (Barrera seems to be as well--it's interesting that two artists in the show tie their work so closely to classic American music from the last century.) Regan's specifically into the kind of old blues that inspires legends. And a lot of her work is about creating sacred objects that feed into the legends.
Anne J. Regan, The Crying Out, mixed media, 2009-2010
Like this one. Those tuning forks are made of soil gathered in Texas, Louisiana, Mississippi, Alabama, Tennessee, Georgia, Michigan and Illinois. Where Suzuki asked you to question his authenticity, Regan if clinging to it through the notion that there is something in the very Earth where her musical heroes trod that is magic. She wants some of that magic. The shoes beside it were shoes worn while working in the field. (By whom, she doesn't say.) Now this kind of down in the soil attempt at authenticity can be laughable--remember the scene in
Ghost World
where the white blues band "Blueshammer" sings a ridiculous song about plowing? Still, I think her heart is in the right place. Like so many blues lovers, she's a superfan, and superfans can be a little crazy in their obsession.
Anne J. Regan, Blues Master Series (Soil Crayons), beeswax and soil, 2009-2010
So let's talk about crazy. These fine brown and black crayons are made with soil from the following grave sites: Willie Dixon, Burr Oak Cemetery, Alsip, IL; Son House, Mt. Hazel Cemetery, Detroit, MI; Blind Willie; Johnson, Blanchette Cemetery, Beaumont, LA; Robert Johnson, Little Mt. Zion Church, Greenwood, MS; Lead Belly, Shiloh Baptist Church Cemetery, Caddo Parish, LA; Blind Willie McTell, Jones Grove Baptist Church Cemetery, Thompson, GA; Charley Patton, New Jerusalem Church Cemetery, Holly Ridge, MS; Howlin' Wolf, Oak Ridge Cemetery, Hillside, IL. For a hardcore blues fan, the pilgrimage is a major task. These crayons are like proof that she's serious about her love of the blues.
Regan has a lot of other great pieces in the show--as do Barrera and Suzuki and several other artists. It's up until the 24th, so I recommend that you check it out.