This is an experiment. I am sitting in the
Black Lab
just finishing a beef Wellington. I'm typing this on my iPad. I took photos of the show, which i edited with an app called Photogene and then uploaded to Photobucket (which also has an iPad app). On one hand, what is difficult is figuring out how to create a post remotely from the iPad. But that's not all. My additional challenge is to successfully post after drinking a certain number of glasses of beer and wine.
Terra Infirma was a show of three artist at
Rudolph Blume Gallery
(where I bought my
Stephanie Toppin painting
last year). The artists were
Dixie Friend Gay
(she gets my vote for oddest name),
Ruben Coy
and
Scott Winterrowd
. Winterrowd's paintings--watercolors of mushroom clouds--seemed less interesting to me than Gay's or Coy's. They also were the odd works out compared to the other two artists, both of whom are nature painters.
We don't think about nature painters very much anymore, and that's too bad. Houstonians are pretty familiar with the work of
Melissa Miller
, but this work is different. Miller usually features animals--Gay and Coy are all about the flora.
Dixie Friend Gay, Water Plants, acrylic on paper
As it turns out, I am pretty familiar with Gay's work--at least some of it. Two of her paintings hare hung in the dining room at the
Jones Graduate School of Business
, where I typically spent at least a few minutes of every day while I was a student there. I liked those paintings a lot--what appealed to me especially was the lack of a focal point. They were all-over compositions, not unlike Jackson Pollock, but realistic.
The paintings in this show aren't quite like that. They depict a comprehensible space. There may not be an obvious focal point in these paintings, but the composition of colors is designed in a way that Pollock's paintings (and Gay's JGSB paintings) apparently were not.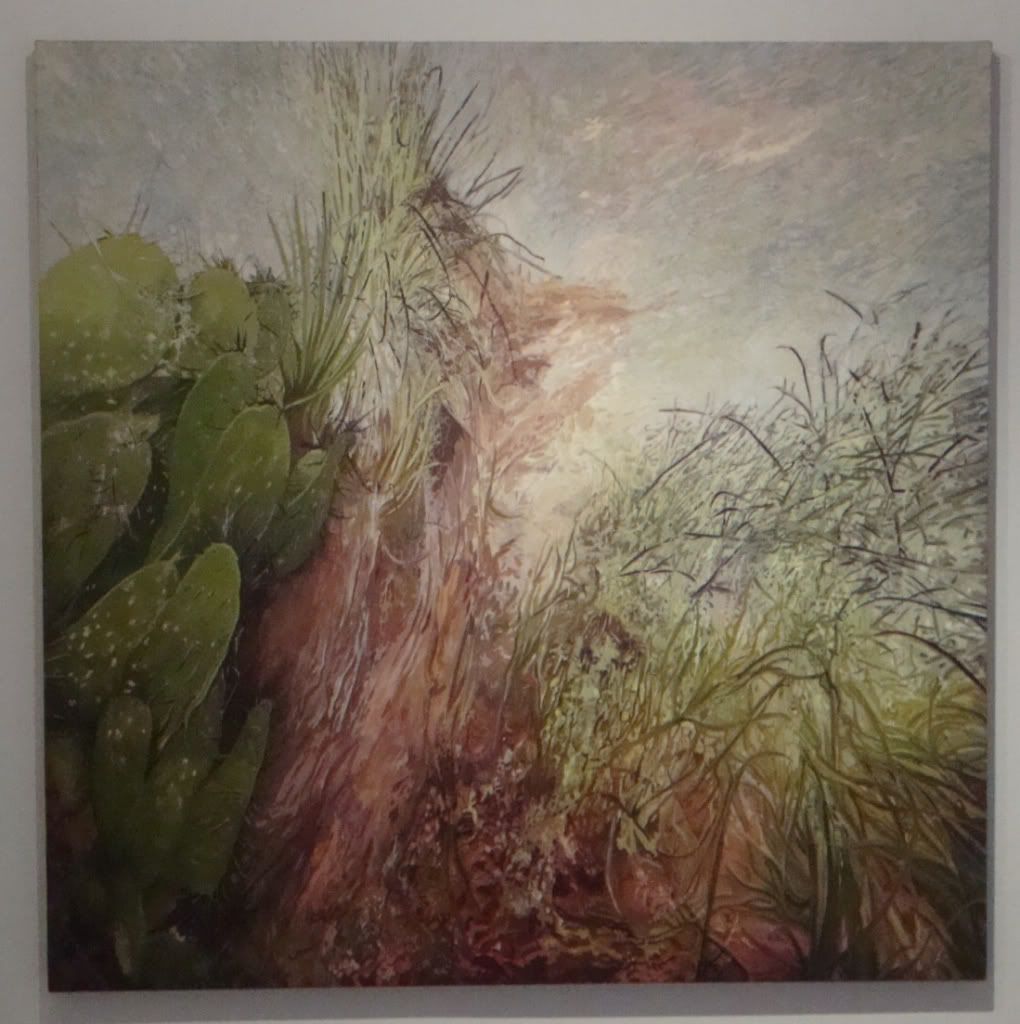 Dixie Friend Gay, Desert, acrylic on canvas
Two of her paintings deserve special mention. They belong together.
Dixie Friend Gay, Bird, acrylic on canvas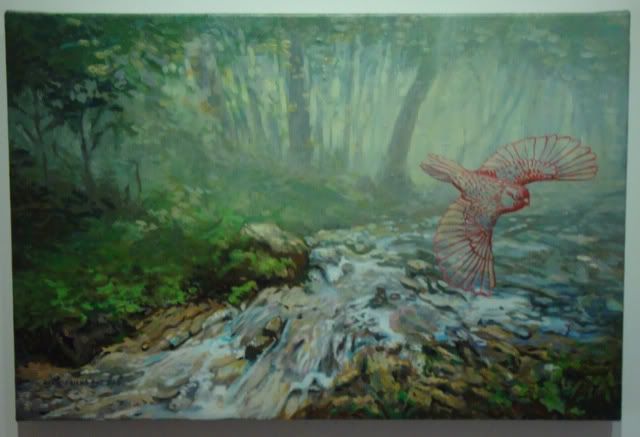 Dixie Friend Gay, Red Bird, acrylic on canvas
I hope that some collector buys both. The bird and its ghostly double are clearly related and should not be separated.
Ruben Coy's paintings of plants are altogether more lush. In fact, the word I would use for them is "pulpy". Indeed, the first thing that came to mind when I looked at his painting was that he should paint the cover for the next edition of
One Hundred Years of Solitude
. Unlike Friend's paintings, there is a lot of high-contrast between light and dark values. The application of paint is creamy and thick. It has a strong visual impact without having a lingering compositional interest. In short, these paintings feel like illustrations rather than paintings. I don't want to get into an involved discussion of the difference between illustration art and non-illustration art. Everyone has his own definition. I don't consider one superior to another,
per se
. That said, illustration art is defined by its immediacy. A great painting is one that you can return to again and again. (Some illustration art certainly qualifies in that regard.)
The difference between Coy's art and Friend's art was profound, despite their similar subjects. I don't have the titles, but here are a few examples of Coy's paintings at this show. I think the differences will be obvious.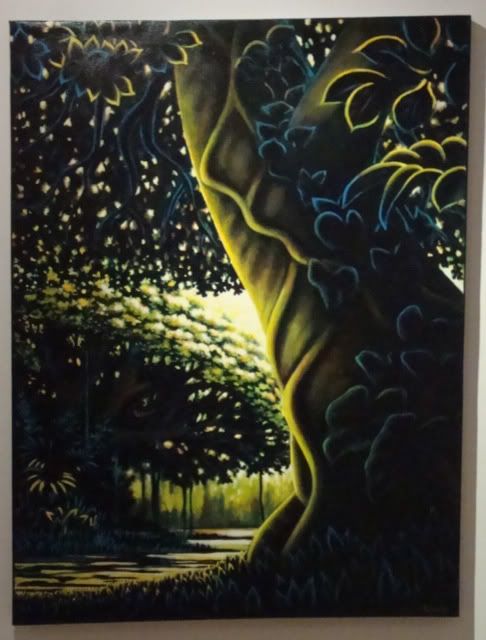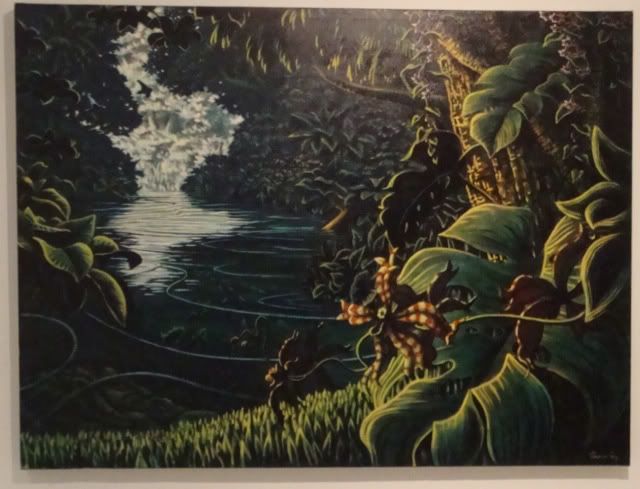 My preference is for Gay, but I can see how people might lean toawards Coy.
(By the way, the experiment was not completely successful. None of the photo apps on the iPad let you scale the image precisely the way you can with IrfanView or almost any other Windows-based image editor. As you can see, some of the images are too wide for the column. I hope this weakness is corrected in the future. An IrfanView app would be welcome! But more importantly, because of the quirky way that Safari works on the iPad, editing a blog post is next to impossible. So--anyone from Google reading? Please make a dedicated iPad Blogger app. Or if Typepad wants to do it, I am willing to switch!)