I have gotten a little behind on my "new acquisitions" posts. I always feel a little reluctant to do them because they feel vainglorious and make me look like the kind of person who brags about his
stuff
. Which is what I am doing, so I can't dodge that one. One thing I'm trying to do is discuss collecting in a non-rarified way. I am not a rich guy, but I am able to collect. If you like art, you can too.
So I'm going to have two "new acquisitions" posts today. This one will focus on comics art.

Chester Gould, Dick Tracy, ink on bristol board, October 15, 1962

Chester Gould, Dick Tracy, ink on bristol board, October 18, 1962
I was able to get both of these pretty cheap. I think the reason why is that neither of them showed Dick Tracy or any of his regular characters or his distinctive villains. But
Chester Gould
's drawing and storytelling are well-represented in these two pieces. We see his typical use of silhouette in the earlier strip. And the airplane sequence--especially with the successive downward sloping black areas--is fantastic. Two relatively minor examples from one of America's greatest artists.
This next one is from the same year, curiously enough.
Frank Robbins
is a far lesser artist than Gould, but still interesting as a guy who started off as a
Caniff
imitator and evolved his own unique variation on that style. It's looser than Caniff's, with a lot more crazy anatomy (which gives his characters an unexpected expressiveness).
Frank Robbins, Johnny Hazard, ink on bristol board, August 9, 1961
The last new piece in the collection is far more recent.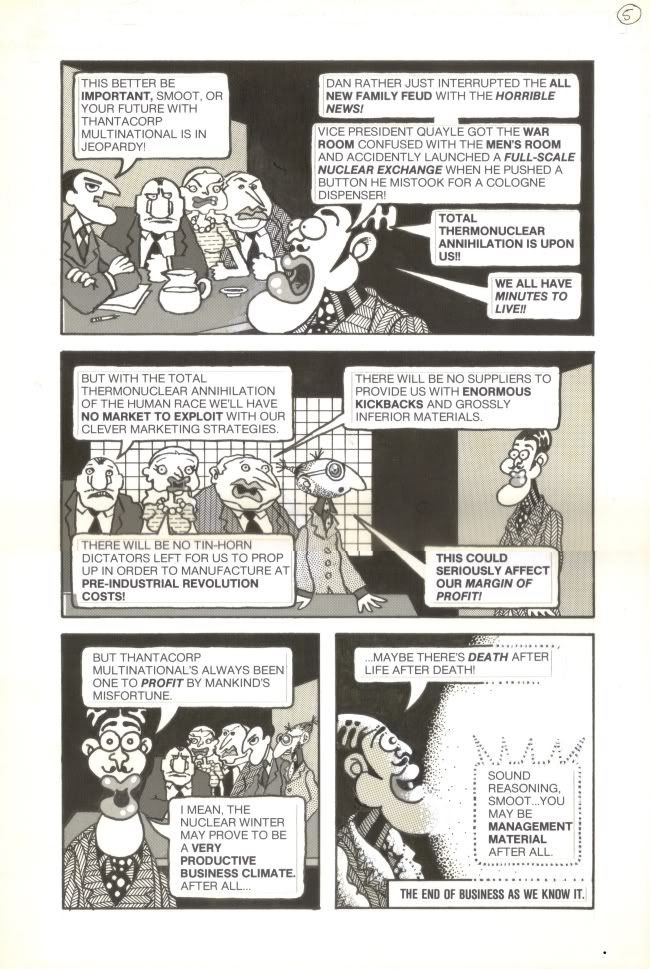 Skip Williamson, "Snappy Sammy Smoot, Death Merchant" page 2, ink, halftones, photo-typesetting on illustration board
Some of you may recognize this as a page from a story that I already own
another page
of. Bought from the same dealer, of course. Maybe I'll eventually get them all. Skip Williamson is an underground cartoonist, one of the originals from the 60s. This piece was done in the 1980s.