I mentioned a while back that I had bought a
William Powhida print
through
20x200
. This is the one I bought:
William Powhida, Why You Should Buy Art, archival ink print, edition of 500, 14" x 11", 2010
The concept behind 20x200 is to create artworks that are cheap enough for non-wealthy collectors to buy. The add two pieces every week (one photographic, one not). The prices range from $20 to $200. I recently bought two more pieces from 20x200.
Chad Hagen, Nonsensical Infographic No. 3, archival in print, 10" x 8", 2010
Chad Hagen, Nonsensical Infographic No. 4, archival in print, 10" x 8", 2010
I got these because not only are they beautiful to look at, they also deal with one of my favorite subjects--the visual representation of data. Of course, these are ironic because they are visual representations of no data. But let this be a warning. I intend in the near future to write something about data, statistics, and data visualization as art.
Chad Hagen
is a designer, the profession that has been most deeply involved with data visualization.
One thing I don't like about the 20x200 pieces is that they aren't signed on the artwork. I was taught that when you do editions, you should sign and number them, usually in pencil, on the front underneath the image. But 20x200 has the artists sign little slips of paper that come with the prints.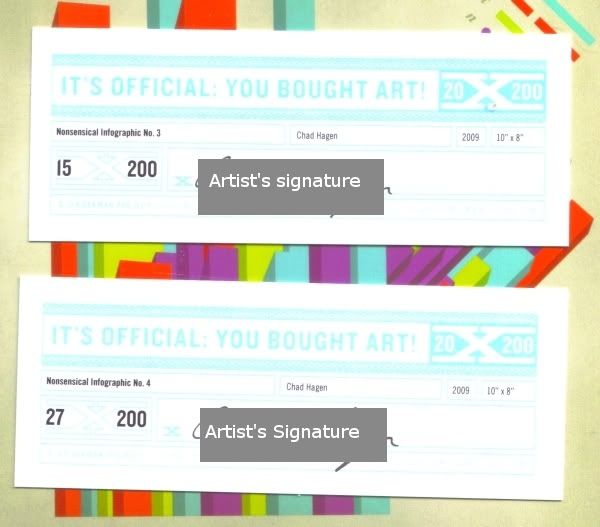 My problem with these is that it separates the signature--which is the thing that authenticates the work--from the physical piece. It also places a burden on the collector. He or she needs to keep track of this little slip of paper from now on.
Anyway, these are my recent
budget
fine art buys. Small inexpensive limited editions, offered through an internet store, are a great way to get involved with collecting. It's definitely a lot less intimidating than the alternatives. Like going into a gallery and buying a piece. If one is not an experienced buyer from galleries (and I am not), one always wonders what the etiquette is. In almost any other retail establishment, you don't have to worry about this. But art is a luxury item, and buying it seems like it
should
involve certain rituals and niceties.
Here's what I bought recently at
Hooks-Epstein
. It's called
Zarzuelas
and it is by an artist named
Ward Sanders
.
Ward Sanders, Zarzuelas, assemblage, 11" x 16" x 5.5", 2010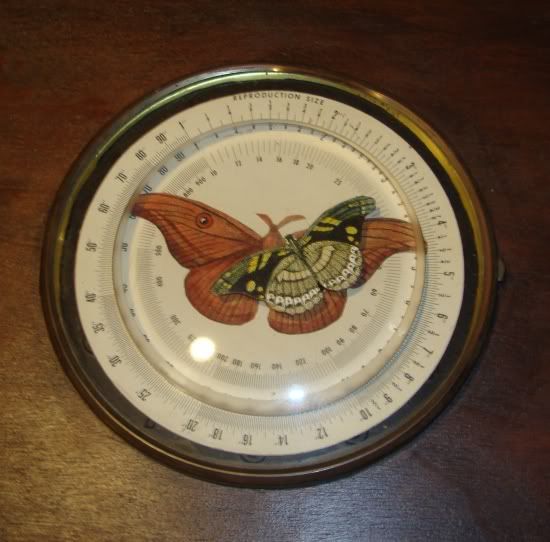 Ward Sanders, Zarzuelas detail, assemblage, 11" x 16" x 5.5", 2010
Sanders' exhibit consisted mostly of wooden boxes with mysterious things in them. The obvious antecedent is
Joseph Cornell
.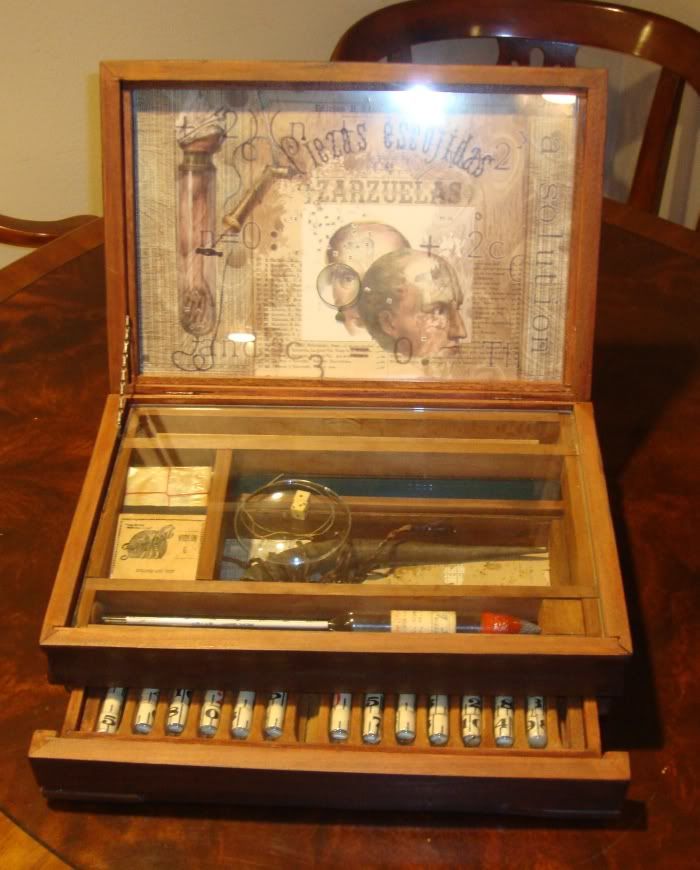 Ward Sanders, Zarzuelas, assemblage, 11" x 16" x 5.5", 2010
Ward Sanders, Zarzuelas detail, assemblage, 11" x 16" x 5.5", 2010
Ward Sanders, Zarzuelas detail, assemblage, 11" x 16" x 5.5", 2010
I had, buying Zarzuelas, a slightly amusing experience. I asked a question about the piece--what was the liquid in the test tube. They shrugged their shoulders--"Eh, I dunno." But once I made my interest in buying clear, they quickly got the artist on the phone! (I'll leave the contents mysterious for you.)
One thing that distinguishes Sanders biographically is that he has no formal art education, as far as I know. He has a BA in biology and did some graduate level work (but I don't know if it was in art or not). These days, when so many artists are credentialed professional (an absurdity when you think about it), it is kind of a novelty to run across one who
doesn't
have an MFA. In any case, his lack of education hasn't hurt him none. His pieces in this show were beautiful, mysterious, full of hidden antique knowledge. I'm reading
Winters Tale
by Mark Helprin right now--Sander's assemblages remind me a little bit of Helprin's novel of a fantastic turn of the century New York.