by Robert Boyd
That last post (part 2)
might have left a bad taste in your mouth. Let's look at a few pieces of art that I liked in the show and wrap this up.(
Part 1 is here.
)
Art I Liked
Ken Price, Marcel, acrylic on fired ceramic, 1999

Wouldn't you like this lovely

Ken Price

? I would. This was at the

William Shearburn Gallery

booth, which I thought was pretty top-notch. (

Update

:

For some reason, this image--a photograph that I took of Ken Price's sculpture, got a DMCA complaint. I guess that trumps fair use. You'll just have to imagine a beautiful Ken Price sculpture here.)
Joseph Havel, Soft Target #2, fabric, cut up American flags, needles and thread on aluminum, 2011
William Shearburn also had this lovely
Joseph Havel
piece.
Sandy Skoglund, Walking On Eggshells, pigmented inkjet on paper or cibachrome, 1997
I haven't seen a
Sandy Skoglund
in years, and was delighted to see this one in the booth of Yvanamor Palix Fine Arts. My understanding is that
Yvanamor Palix
operates as a private dealer out of a space in the
Spring Street Studios
building (curiously enough,
she used to be located in Paris
. I'd like to hear the story of how she landed in Houston.)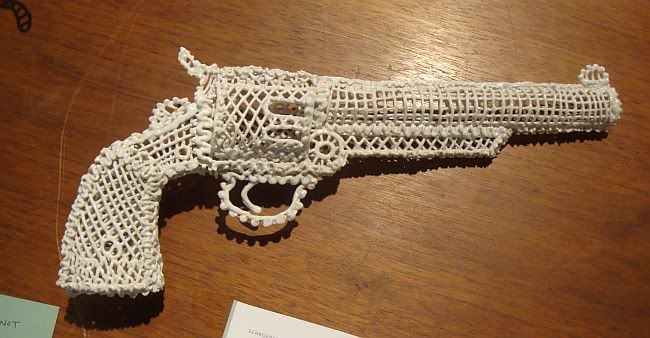 Susan Graham,
Army Six-shot single action center fire revolver,
glazed porcelain, wood base, plexi vitrine, 2003
Schroeder, Romero & Shredder had a table like pretty much every booth, but they left cool pieces of art like this one just laying around. It's like they were just daring me to try to swipe Susan Graham's revolver.
Kehinde Wiley, Portrait of a Lady, oil and enamel on canvas, 2006
I've always liked Kehinde Wiley's afro-baroque paintings, and this one is hilarious. This one was on view at Pan American Art Projects.
Some Closing Thoughts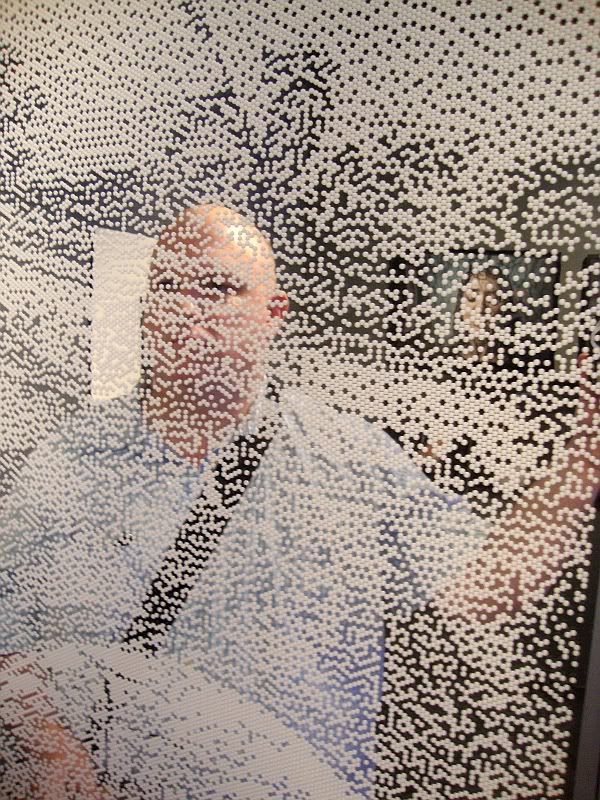 William Betts, Amalienburg, acrylic paint on reverse drilled mirror plexi, 2011, detail with my reflection in it
I spoke to Patricia Ruiz-Healy of Ruiz-Healy Art in San Antonio about the fair. I was particularly interested because she was coming from a place so close by, but perhaps not that well known to Houston collectors. As far as they are concerned, she could have been coming from Europe or South America. She told me, "It's been good... It could be better. But it's the first year." But she also saw the fair as an investment--a way to grow some artists from South Texas who weren't well-known to the Houston market.
They had some great pieces by the late photographer Chuck Ramirez as well as several cool fire-drawn pieces by BillFitzgibbons. But what really caught my eye was this: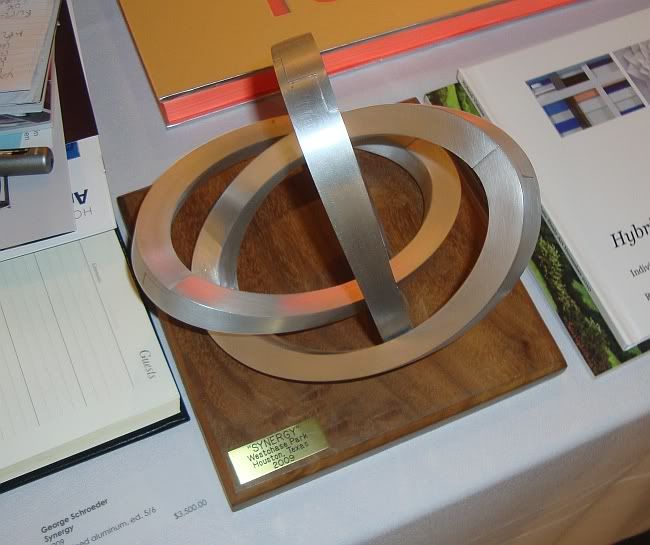 George Schroeder, model for Synergy, 2009
If you work in the Westchase area, you might have seen the huge version of this George Schroeder sculpture in front of the ABB building right on the beltway. When I first saw it, it struck me as the perfect piece of corporate sculpture, and I wrote about it.
Last Sunday, I was chatting with an artist who's been around the local scene for a long time, and we were discussing how Houston got Lawndale, the Core Program, and Diverse Works in a relatively short period of time during the late 70s and early 80s. He posited that there was something in the air artistically. I responded that there was also something else in the air--money. Houston was at an economic high-water mark in those days, and folks were writing checks for scrappy non-profit art spaces. Then came the crash of 1985.
Several friends have pointed out that Houston has more money than other places in the U.S. right now. It has not been immune to the recession, but the price of oil is high and that has mitigated a lot of the pain. If you are an Art Fair organizer in 2011, Houston has got to look pretty good! I enjoyed this fair--meeting gallerists, looking at art, and so on. But if this fair exist because there's money here for the taking, I would also like to see the local elite put some of that money into struggling non-profit art spaces here--places like Box 13, Skydive and La Botanica, as well as supporting our already established art spaces that still depend on folks' generosity to keep the doors open every day.
Anyway, The Houston Fine Art Fair is kaput for the year. We have to look ahead, not back! After all, we have Texas Contemporary Art Fair coming up in just a few weeks. And in a naked attempt to ride on that fair's coattails, I want to announce that I am curating a show with Zoya Tommy that will open simultaneously with the Texas Contemporary Art Fair. More details will be rolled out, but it's a group show with 10 Texas artists, working in sculpture, photography and painting. The name of the exhibit is Pan y Circos. Details coming very soon!