by Robert Boyd
There were lots of enjoyable exhibits and performances this year. It's really hard to choose the best--it's even hard to choose my
favorites
because they keep changing. Ask me in three months, and my list might be different. That said, below are my list of my 10 favorite 2011 exhibits in Houston as of December 21, 2011 (plus a long list of honorable mentions). The shows below are not listed in any sort of ranked order. Each was excellent in its own way.
John Wood and Paul Harrison, video stills
J
ohn Wood and Paul Harrison, Answers to Questions at CAMH
. I don't dislike video art, but sometimes I find it tedious to look at in a museum or gallery setting. It is a credit both to these hilarious but deadpan videos and to the CAMH's exhibit design that I sat for hours and watched Wood and Harrison's videos.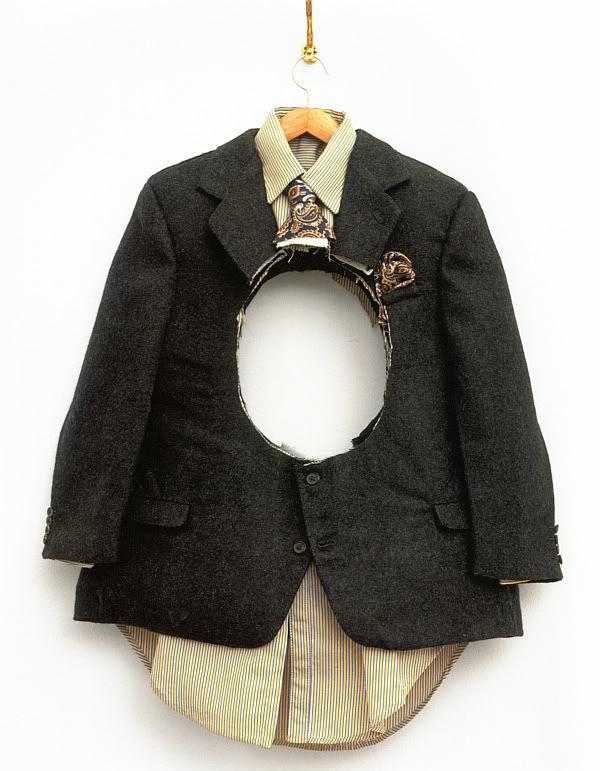 Charles LeDray, Hole, fabric, thread, plastic, wood, metal, 19 1/4 x 13 1/2 x 2 1/2 inches, 1998
Charles LeDray, workworkworkworkworkwork at MFA
. A Houston art world figure called
this show "disgusting."
But I loved it. It thought it was rich and beautifully wrought. The empty suits spoke of absence--which as they were made at the height of the AIDS epidemic in the 80s is appropriate. The little sculptures and tableaux appeal to me in a visceral way. I visited this show several times.
Havel-Ruck Projects, Torrent at the Houston Permitting Center
Houston Permitting Center
. This will be the subject of a post in the next few days. Not all art happens in galleries or museums. In this case, Studio Red took an old warehouse and turned it into a fairly fantastic city building. But what gets it on the top 10 is the art by Dick Wray, Serena Lin Bush, Jesse Sifuentes, Kaneem Smith, Geoff Winningham, Metalab Studio, Havel-Ruck Projects, Agnes Welsh Eyster, GONZO 247 and artist/curator Mary Margaret Hansen. It's like there was another museum in Houston that you never heard of.
Man Bartlett puts a price on your dreams at Skydive
Man Bartlett #24hclerk at Skydive
. For a 24-hour period, you could Tweet your dreams to Man Bartlett. He would ponder your dream for a couple of minutes, then announce its price. He would set a price gun to that price and put a label with that price on a large piece of white paper on the wall. (Meanwhile, Nancy Douthey sat off to the side transcribing the proceedings on an old electric typewriter.) A camera captured the action live on Bartlett's website. I loved this idea and enjoyed dipping in from time to time during the day as he kept on pricing dreams from around the world. I came to see him in person at Skydive at the very beginning of the performance and the very end.
Exurb, Input/Output at the Joanna
Exurb, Input/Output at the Joanna.
This was a large, multichannel digital/analog sound sculpture by Exurb, a five person collective. It was loud and weird and I loved it. Yet another example of technological art, I loved that it employed both archaic analog electronics with cutting edge software.
Mark Flood, Another Painting, fluorescent paint
Mark Flood at Cardoza Gallery
. For years I had wanted to see Flood's art, but he had no gallery in Houston. So while people in Berlin and New York could see his work, I could only see jpegs. Until this show. And it not only lived up to my expectations,
it blew them away
.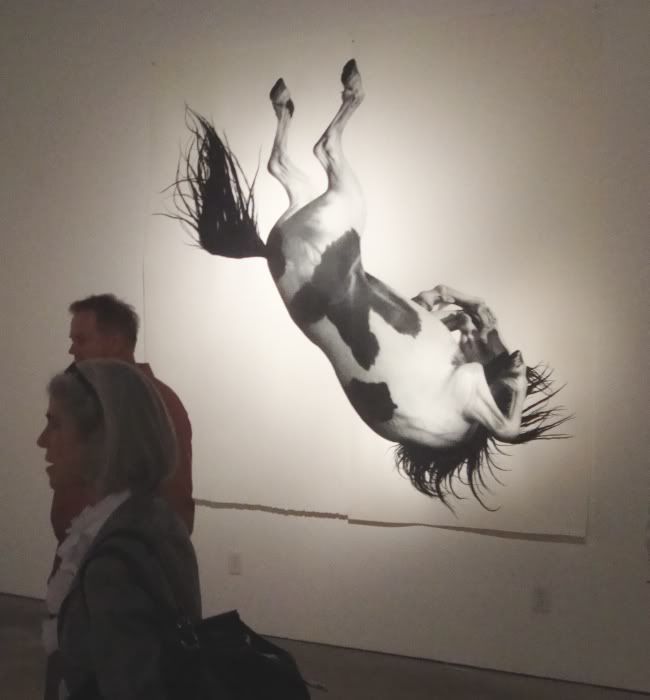 Larassa Kabel, Any Minute Now, Bay, colored pencil on paper, 2011.
Larassa Kabal at Peel Gallery
. How Peel Gallery found this relatively obscure Iowa artist, I don't know. But these beautifully rendered life-size drawings of horses falling are not likely to be forgotton once you've seen them. Unnerving yet beautiful, this was a small show with a large impact.
Jeremy DePrez, 5 out of 194 Countries I Have Never Been To, oil and acrylic on canvas with country selection assistance by http://www.randomcountry.com, 2011
33rd School of Art Masters Thesis

Exhibition at the Blaffer
. Some of my favorite artists in town got their MFAs this year--Francis Giampietro, Britt Ragsdale, Emily Peacock, and Jeremy DePrez. Seeing them all together showing some of their best work (along with excellent work by other grads) was terrific.
Natural Resources by The Bridge Club
The Bridge Club, Natural Resources at Lawndale
. While the idea behind this performance seemed a little obvious, that was beside the point. What mattered was the staging--the identical costumes of the four performers, the hyper-deliberate, slow movements of each performer, the low lighting, the glass jars. It was a dream-like, hypnotic performance, and I fell in love with Annie Strader, Christine Owen, Emily Bivens and Julie Wills (or at least fell in love with their characters) as I watched.

Lane Hagood, Detourned Bust, mass-produced statuary, foam, acrylic paint, 2010
Lane Hagood, The Museum of Eterna at the Joanna
. I've been a fan of Hagood's since I first saw his work at Gallery 1724. This show was like a museum, with each room dedicated to a different artist who all happened to be Lane Hagood. This Fernando Pessoa-like strategy worked brilliantly--it allowed him to try wildly different approaches to working. This show reinforced Hagood's literary side. As a bookish guy myself, I love that Hagood is a bookworm.
When I look at this list, I can see it says a lot more about me and my tastes than anything else. I don't claim to have an absolute conception of "good art." I'm not Clement Greenberg, and thank god for that. I'm more of a follower of Thomas McEvilley, who thinks the best you can hope for is an educated personal taste. I think we saw that with
the best shows as chosen by the Houston art community
. Between their top six list and my top 10, there was only one overlapping choice. This is not to say everyone's opinion is equal, but even among people who know a lot about art and who have well-developed tastes, there is little consensus.
Next up--Honorable Mentions, shows I liked a lot but that didn't make the top 10. and the Worst Shows of 2011.