by Robert Boyd
This is
continued from part 1
. The shows/events listed below are everything that got one vote from the 14 respondents to my poll.
Howard Sherman, Apocalyptic Wallpaper at McMurtrey
. This show actually got two votes, but one was from
Howard Sherman
himself! I approve of an artist having high self-esteem, but thought it wouldn't be right to count that toward the total.
Mark Flood
also liked this show.
Alex Jones' protest against the Federal Reserve bank on Allen Pkwy. This odd entry on the list came from Mark Flood: "Maybe not art but I loved [the]
Alex Jones
led a protest against the Federal Reserve bank on Allen Pkwy., sorta connected with occupy."
Ancestors of the Lake: Art of Lake Sentani and Humboldt Bay, New Guinea at the Menil
. Mark Flood wrote, "I also loved [the Menil's]
Ancestors of the Lake: Art of Lake Sentani and Humboldt Bay, New Guinea
. It makes me sound like a Menil groupie but believe me I'm not."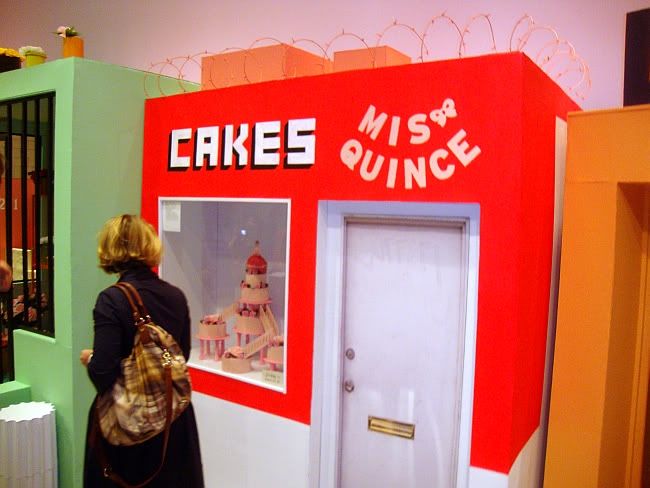 Ana Serrano, House of Beauty installation view, mixed media, 2011
Ana Serrano's Salon of Beauty at Rice Gallery
. An anonymous respondent said, "I love to be totally immersed in an artist's world. This was spectacular! I wish I could visit it still."
BOX of Curiosities PODA Project
by various
Box 13
artists. This was one of the choices of an anonymous respondent.
Carlos Cruz-Diez: Color in Space and Time at MFAH
. This color-saturated show was one of
Devon Britt-Darby's
favorites.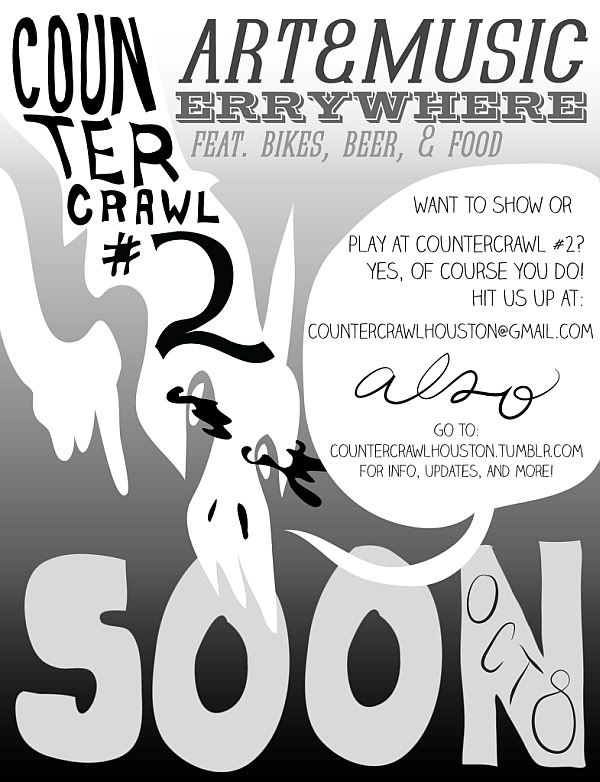 CounterCrawl flyer
CounterCrawl
. A bicycling trip through various art studios struck a chord which performance artist
Carrie Schneider
.
The Cy Twombly Gallery
shortly after
his death
. One of the most moving responses I got to my poll wass this one by painter/collagist/crochetist
Stephanie Toppin
: "To take an extremely personal take on this that I have not really told or blogged to anyone about, I did the very typical artist thing and visited the Cy Twombly gallery after he died. He is a part of the realm of painters that mak[es] me fall in love with not art, but paint. The relationship to canvas is what I could gawk at, spending hours away. I don't know what I really went for, but I had to go to satisfy the itch of not going. I wanted to think about art now that moved me like this. I felt scared. This year has been a personal rollercoaster for me and art has always been my safe place. For the first time, life seemed marked. I am not afraid of death, I am afraid of artist's death, of an art death. It actually hurts me to type this. Maybe I always felt that his painting lived, the possibility of more, and with his death they truly stopped. All of it became history. This is all there is.
"I know it is dramatic. I wish I was better at communicating a feeling that I can hardly contain. I've been thinking about it for days. I just wanted to tell you, it doesn't matter if you post this. I wish there was a show that shined above this for me.
"Art seems so fast now, there are so many pop up shows and work around every corner. I applaud the energy, I think it helps the public know and understand arts contribution to the culture of the city. I guess I am romantic. I want more slow art. I will have to stew on that."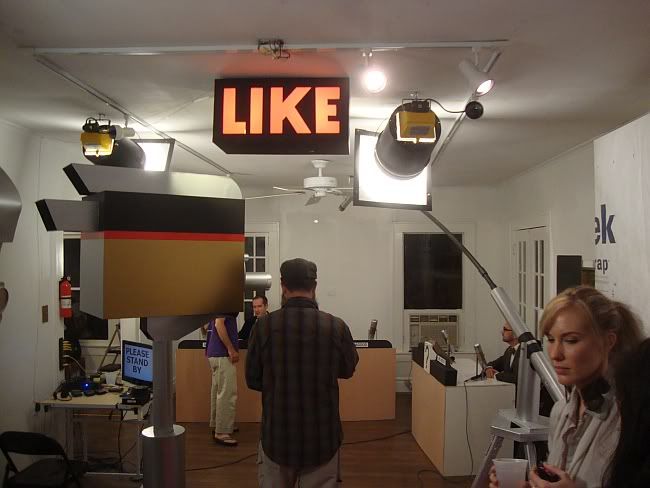 Dennis Harper, iPageant, performance with paper props, 2011
iPageant, Dennis Harper & friends at the Joanna
. An anonymous respondent wrote, "I was really disappointed with
Nancy Douthey's
performance, and I wish there was more time spent on the game show portion of the exhibition, but this was great." (Personally, I liked Douthey's performance, but I agree the game show should have kept going--hopefully they will restage it sometime.)
The Devon Britt-Darby saga
.
Emily Sloan
voted for "Devon Britt-Darby's life, art, religion, sexcapades!"
Donald Moffett: The Extravagant Vein at CAMH
. And speaking of Devon Britt-Darby, this is one of his top choices of the year.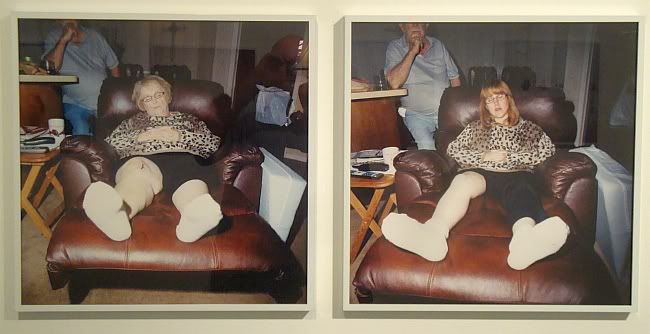 Emily Peacock, MeeMee and Me, C Print, 2010
Emily Peacock
. One anonymous correspondent wrote voted for "anything Emily Peacock does," which raises a point--there are artists that you see here and there who may not have a solo exhibit, but the sum of their work makes a big impact. I can see that effect with Peacock's photography.
Francis Giampietro & Jeremy DePrez, The Power of Negative Feedback at Lawndale
. This two-man show garnered a vote from one of my anonymous respondents.
(Because I've reached the limit on the number of characters I can have in my "tags", I'm going to contiunue this in
part 3
--and
part 4
and
part 5
. Onward!)