by Robert Boyd
In 1422,
Jan van Eyck
, the first great Flemish oil painter, started drawing a salary in the Hague as a painter. From then until the death of
Ruben
s in 1640, Flemish painters were among the best, with Italian artists as their primary competition for greatest-in-the-world status. The tradition of Dutch painting continued through the late 17th and 18th centuries, but those painters are little known outside the Netherlands. The artists from the
Dutch Invasion
exhibit who spoke at
Box 13
on Saturday nonetheless expressed the tradition of Dutch painting as a continuity--particularly painting education, which they implied was quite rigorous. It's hard to know from this show alone whether painting is particularly important within the context of contemporary Dutch art, but if they are at all representative of Dutch art, painting must be a strong current there.
I discussed the
Box 13 exhibit in an earlier post
. Last Thursday, the second half of the show opened in the
Williams Tower gallery
.
Christina Bittremieux, untitled, oil on canvas, 2007
Christina Bittrmieux
spoke of her work's relationship with landscape. The images are apparently based on real places, even though in the process of being painted, they become quite abstract.One of her subjects is highway exchanges. I don't know if this is one of those piece, but it looks like it could be.
Hans de Bruijn, Monet/Doppelganger, oil on canvas, 2008
Hans de Bruijn
seems to carry the weight of his painterly ancestors heaviest. He spoke, for example, of having fallen in love with Mark Rothko's paintings when he was 16 (he is 52 now). He said that ever since he was 17, he had wanted to see the
Rothko Chapel
, and having built it up in his mind for so many decades, he was disappointed. (A common reaction.) He said those big dark canvases didn't
admit
him, unlike other Rothko paintings which invite the viewer into the space Rothko has created. De Bruijn considers Rothko a kind of landscape painter--hence his portrait of Rothko on a beach. He then went over to the
Cy Twombly gallery
without such time-forged expectations and found it overwhelming. (Also a common reaction--Jim Woodring described a similar reaction when he saw them.)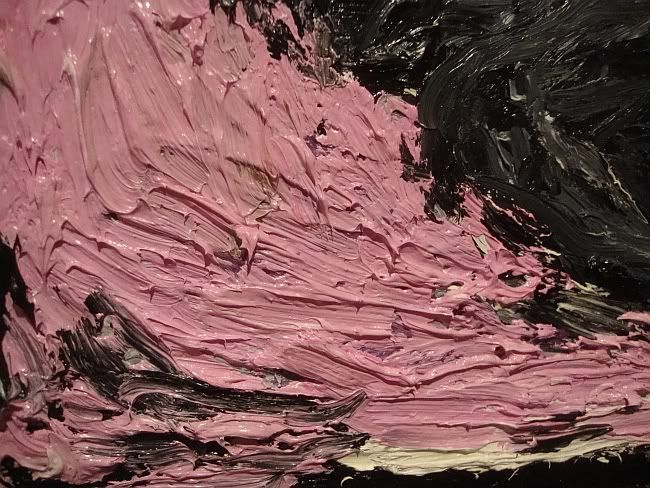 Hans de Bruijn, The Anatomy Lesson (detail), oil on canvas, 2008
Looking at photos of the paintings taken from a distance, it's hard to see just how thick the impasto is on de Bruijn's painting. He really uses the gooey quality of paint as a
substance
in his paintings.
Anna Bolten
Anna Bolten
is the youngest artist of the group. Her paintings are based on photos and usually combine more than one image in a single painting. Something I didn't really notice until she pointed it out is that many of the images are based on photos taken from moving cars or trains. That gives them a slightly blurred look, and they tend to be paired with images taken from a stationary position. The effect is subtle, but visible.
Maarten Demmink, aka Demiak
Demiak
's work at Williams Tower included some paintings. In
my earlier review,
I referred to his work as "painterly" (even though it is composed of photos of carefully created tableaux), and he confirmed that his origins as an artist was as a painter. He spoke of his teenage infatuation with the blues which evolved into a lifelong interest in the deep South (and Louisiana, especially). In fact, while his colleagues are making a pilgrimage to Marfa this week, he and his wife were heading off in the other direction to Lafayette and New Orleans. I mentioned to him that the cypress knees and trees in his photos were utterly gigantic compared to the real things. He didn't apologize--these photos weren't an attempt to create a documentary realism. His Louisiana was a fantastic land, a personal myth. I wonder if seeing the real Louisiana will change his work at all?