All of the shows listed below were excellent, and on a different day, I might have placed any one of them in
the top 10
.
Lisa Gralnick: The Gold Standard at Center for Contemporary Craft
. This was a very interesting show that included sculptures made of plaster and gold--where the percent of gold was determined by how much gold it would take to buy the thing depicted.
Stephanie Toppin's couch in Jim Peterson, Jr.'s garage
Stephanie Toppin's couch
. Of all the things associated with the Art Car Parade this year, this is my favorite. After the parade, Toppin's couch was lost for several months until I happened to find it at Jim Peterson, Jr.'s house. Mystery solved!
The Time Travel Research Institute Presents by Patrick Turk at Art League
. Instead of his usual dense psychedelic collages, Turk made these pieces have a sense of physical space and even added motion to some. Mindblowing.
Jim Nolan, Today is Tomorrow at Art Palace
. Jim Nolan's art is what happens when minimalism goes downscale. Made often from items purchased at 99¢ Only stores, it is the perfect art for our belt-tightening times.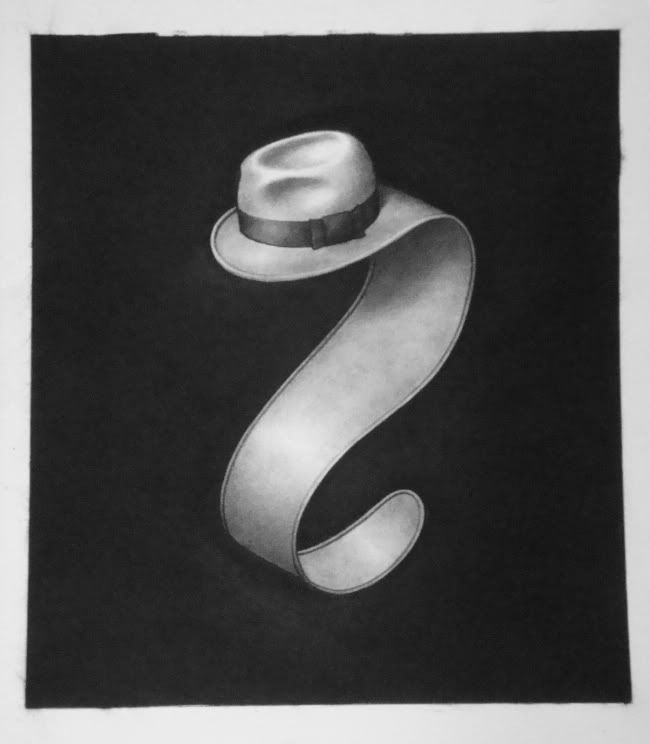 Jim Woodring, Lazy Robinson, charcoal on paper
Jim Woodring and Marc Bell, Walpurgis Afternoon at Lawndale
. I'm picking a show I curated, which is a bit unfair. What can I say? I thought it was great--two cartooonists/painters whose work I've admired for decades, and between whom I felt there was a connection. It seemed natural.
Raul Gonzalez, More Work Ahead, ink and spray paint on floor laminate, 2010
Raul Gonzalez at the Caroline Collective
. Raul Gonzalez is a real street artist--and by that, he paints Houston's streets and uses as motifs street signs. Indeed, the colors of street signs pervade his work. He has created the vision of Houston that seems most true.
Myke Venable, MV 25 Silver/Scarlet Red/Black, acrylic on canvas, 2011
Myke Venable at Sonia Roesch
. The only way these paintings could be more minimal would be to turn them from two or three color paintings to one-color paintings. As a consequence of their minimal content, they lack autonomy--they collaborate, in a sense, with the room they're in. And that's what I like about them.
Southern/Pacific at Lawndale
. Really lovely show filled with interesting pieces curated by recent transplant to Houston, Paul Middendorf. This was road-trip art--he picked up art in Portland, Oregon (where he used to live) and Marfa and finally Houston. It was a fine way to introduce Houston art viewers to some interesting out-of-towners.
Hagit Barkai, Aisen and Tyson, Oil on canvas, 2010
Hagit Barkai, Resistance at Nau-Haus
. Hagit Barkai's paintings linger in my mind. It's not the extreme one, the ones showing highly distressed people--although those are good. It's piece like
Aisen and Tyson
and
Home More or Less
that stick with me.
Dennis Harper and Friends, iPageant at the Joanna
. This show was a giant performance extravaganza. Dennis Harper constructed some of his patented oversized paper sculptures--this time of a 60s era television soundstage. It was within this construct, aided by multiple closed-circuit televisions, that Harper staged his variety show. I only hope it wasn't a one-time event.
Ward Sanders at Hooks Epstein
. San Antonio artist Ward Sanders has had four shows at Hooks-Epstein, but for this one, he added a new element. In addition to his mysterious, lovingly-created boxes, he has a piece of text. It turns out his writing, at least in these short fragments, is excellent. The world of visual art could lose Sanders to the literary world.
Ibsen Espada, Reformulaciones at New Gallery
. One of the original Fresh Paint artists, Espada has apparently laid low for a while. This show was a powerful (and hopefully triumphal) return. Muscular abstractions.
Sharon Engelstein's Green Golly got its own room at Pan Y Circos
Pan y Circos at PG Contemporary
. Curated by yours truly. We had a huge space for this group show, and it turned out great. I am especially proud to have brought
El Dinersito
by
Jorge Galvan
to the attention of Houston's art crowd.
Robert Pruitt, You Are Your Own Twin at Hooks Epstein
. Every time I've seen Pruitt's portraits, I've loved them. There seems to be a rising generation of artists and intellectuals who are heavily invested in African American identity and history and simultaneously into science fiction and gaming and other nerdy pursuits. For example, the writer
Ta-Nehisi Coates
. And Robert Pruitt.
Kim Dingle at Front Gallery
. The Front Gallery is Houston's newest gallery, and its smallest. The inaugural show, full of oil-sketches of hyper-active girls, was a fantastic beginning.
Lisa Qualls, absence at Koelsch
. Here is a highly conceptual show (portraits of an ancestor who left behind no visual image) that is simultaneously highly personal. I found it quite moving.